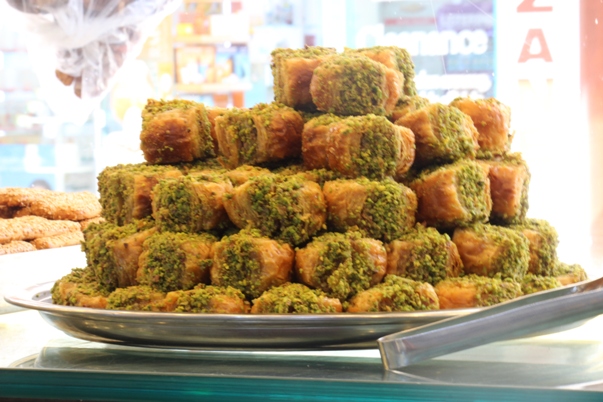 Sometimes in life, and not very often, you get to taste something that is so perfect that the moment stays with you forever and maybe you will never be able to replicate it again.
Most recently for me it was a piece of baklava.  I have long held a passion for baklava, have made it myself a few times and will search it out when visiting Middle Eastern food stores.  In recent years the obvious use of vegetable shortenings instead of butter has been disappointing as manufacturers move to economy not purity.
Day 2 of our recent trip to Turkey was spent with Olga from Delicious Istanbul on a walking food tour of Kadakoy (the Asian side of Istanbul).
Olga is extremely passionate about quality produce and good food so we were in exactly the right hands to taste the best that Kadakoy has to offer.  The nuts, fruit, fresh sardines, Turkish delight and more will all go into another story but it is the taste of perfect baklava that this is about.
While baklava is of course from Turkey, specifically it is a city in the East of Turkey, Gaziantep, that is famous for baklava.  It is no coincidence that the highest quality pistachios are also grown here and used extensively in baklava, along with sheep's milk butter, delectable fragrant honey and hand made filo pastry.  The art of this pastry making, it is said, takes 20 years to perfect.
While this trip didn't allow a visit to Gaziantep (next time), there are a sprinkling of baklava makers in Istanbul who have come from Gaziantep and Bilgeoglu in Kadakoy is one of them.  The shop is run by at least two generations of male members of the family and baklava making is their craft (you can also purchase bags of fresh pistachio nuts from Gaziantep).
As instructed by Olga we stab our baklava with a fork until all of the layers are penetrated, pick the entire piece up and turn the fork upwards so that each bite takes in all layers of the baklava.
The combination of crisp buttery pastry with the sublime crunch of pistachios and the sweet honey syrup that goes straight to your head is unbelievable.  I know that I am eating something so good an so pure that this moment is precious and maybe one that will never happen again.
It was my one (well actually two) pieces of baklava that we ate in two weeks travelling Turkey.  I dare not try another piece for fear of disappointment.
I am not even going to try to emulate the recipe and for this reason there is no recipe here to share.
I will instead savour and store the moment.
Do you have precious food moments to share, when you too have tasted something so good that you know it may not ever happen again?