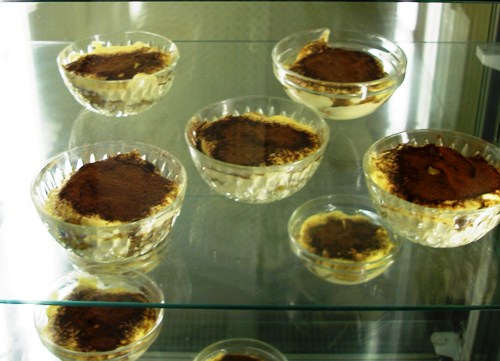 Virgil Evetts
In terms of food fashion, this article is probably about 20 years too late. Tiramisu has long since passed from being the darling of the supper club set to mainstream world domination. Few chefs in high-end eateries would dare present it to the punters today, except perhaps as some clever deconstruction or hybrid.
Yet despite this fall from grace, Tiramisu is still one of the Italy's best-loved exports, and among the worlds' most popular desserts. You see, what many people fail to understand is that fashion and style are two very different things.  Tiramisu might not be remotely fashionable any more, but it's still got style by the bucketful. Another way of looking at this is, "if it feels good, do it". This slogan informs most of my culinary escapades.
Tiramisu is not some ancient relic of the Italian dessert repertoire. It goes back no further than about the late 1960s. There is in fact huge, parochial debate in Italy about the actual date and place of its creation (both Siena and Treviso staunchly claim it as their own), but provenance aside, the idea of an alcoholic, layered dessert of sponge, custard and cream was hardly new. Trifles and their many luscious relatives have been around since the Middle Ages. Tiramisu was (probably) the first to add coffee to the mix, which led to the name Tira mi su, meaning literally 'pick me up'. Unfortunately 'clog me up' would work too in many cases today, as the once-noble dessert has been appropriated to flavour chocolate biscuits, ice-cream, milk shakes (!!) and even fudge. When restaurants do dare to serve it (it's still ubiquitous in Chianti-bottle-and-red-gingham-tablecloth-friendly spots), they often take lazy short cuts: Marsala is replaced with rum, savoiradi with sponge cake and mascarpone with aerosol whipped cream.
With all these shoddy renditions knocking around the place, you could be excused for thinking Tiramisu was a difficult dessert to master. This simply isn't true.  If you use the right ingredients and keep your mind on the game, it's child play to throw together. And no matter how passé it might be on the high street, a good homemade Tiramisu will leave you happliy stupefied with its more-ish perfection.
First of all, know your ingredients. There aren't many of them in real Tiramisu, but each of them has an important part to play. Substitute at your peril!
The traditional base of any authentic Tiramisu is a layer of Italian sponge fingers, or Savoiardi. These rather dry, eggy biscuits are pretty ho-hum on their own, but do a good job of soaking up the all-important espresso without turning into mush. Incidentally the name Savoiardi comes from the biscuit's regal origins as the official biscuit of the House of Savoy. Who knew Dukedoms had official biscuits?
Savoiardi can be found in the biscuits section of most supermarkets
This strained, triple-cream cheese has been used in Italian cooking since around the late 16th century. It should not be confused or substituted with Philadelphia-style cream cheese, which is a cultured product (like yoghurt), or with créme frâiche. If you must draw comparisons, it's more akin to clotted cream than anything else. In Tiramisu, mascarpone serves as a foil to the sweetness of the zabaglione and the assertive bitterness of the coffee. Unlike whipped cream it does not 'deflate' or weep. There are several local and imported brands of marscapone available in New Zealand today, and one or more will be stocked by your local supermarket.
Nothing to do with 'masala', the generic Indian word for a spice mix, Marsala DOC is  (usually) a sweet fortified wine made exclusively in the town of Marsala, Sicily . DOC stands for Denominazione di origine controllata, which is a legal status given to all premium Italian wines of origin. In other words,  it can only be made in Marsala and only according to very strict rules.
Sweet Marsala is the  tipple of choice for Tiramisu, where its lovely, warm raisiny flavour transforms the zabaglione into something well beyond mere custard.  You can substitute it with a good dessert wine or even sweet sherry. However, a bottle of Marsala improves any pantry (or evening for that matter).
Zabaglione
All together now: sar-bay-ow-knee. Not zar-bagg-li-own. Never said I wasn't a pedant. This very simple custard is made exclusively from egg yolks, sugar and marsala or various other sweet wines – no cream and no cornflour. It's dead easy to make and all too easy to eat. Apart from the very important role it plays in Tiramisu of adding volume, flavour and texture, it's also very good as a standalone dessert with fresh fruit.
According to some recipes the zabaglione used in Tiramisu was originally sweetened with honey. I've tried this and it works very well, although, the flavour of honey is quite pervasive and won't appeal to everyone.
I am going to assume you don't need me to explain what coffee and chocolate are and proceed to the recipe.  No matter what any book or website tells you, there is no official, definitive or original recipe for Tiramisu, or if there is it's lost among a million pretenders.  The ingredients rarely change between recipes, but quantities and the way it all comes together are hotly debated. This is just the way I do it.
This recipe makes a fine conclusion to a dinner party, but an even better kick-start the very next day. Enjoy
Tiramisu
Ingredients
8 egg yolks
8 teaspoons sugar OR 4 teaspoons of honey
8 teaspoons Marsala, Vin Santo or other sweet dessert wine
10 savoiardi biscuits
1 small cup strong black coffee (preferably espresso) mixed with ½ cup Marsala
1 cup mascarpone warmed to room temperature
finely grated bittersweet chocolate
Method
To make the zabaglione whisk together the egg yolks, sugar (or honey) and Marsala in a double boiler or a bowl suspended over fast boiling water.  Stir vigorously until thick and increased in volume (but do not allow to boil unless you have a thing for sweet scrambled eggs).  When the mixture can no longer turn under its own momentum remove from the heat and chill.
Line the bottom of a suitably sized serving bowl with the savoiardi.
Pour the coffee/marsala mixture over the savoiardi a little at a time, until all has been absorbed.
In a separate bowl whip the mascarpone until slightly fluffy.
Carefully spread all of the mascarpone in a layer over the savoiardi.
Gently spread the chilled zabaglione in a thick layer over the mascarpone.
Sprinkle a generous layer of finely grated bittersweet chocolate over top.
Chill and serve.