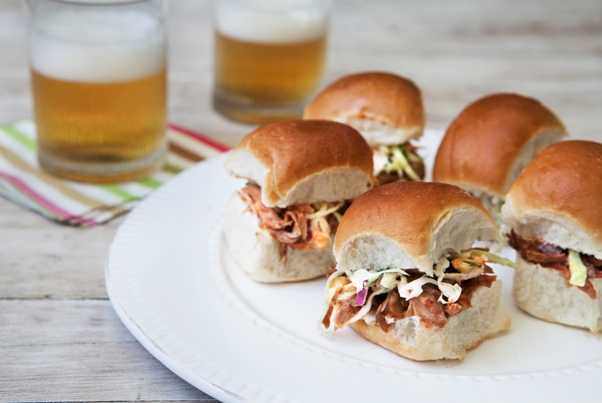 Yield:
enough for 30 sliders.
Ingredients
2kg (ish) piece of pork shoulder (bone in)

2 tablespoons smoked paprika

2 teaspoon fennel seeds

1 teaspoon ground coriander

2 teaspoons dried oregano

1/2 teaspoon ground mustard powder

1/4 teaspoon cayenne pepper

generous amount of salt and freshly ground black pepper

few sprigs of thyme

1 cup apple juice (or half apple juice, half cider)

1/2 cabbage, shredded (less if the cabbage is large)

1 red onion, finely chopped

1-2 carrots, grated

1/3 cup roughly chopped parsley or coriander

½ cup aioli

¼ cup roasted peanuts (optional)

½ cup barbecue sauce

30 soft white dinner rolls
Method
Place the pork in a baking dish and rub with the spices and herbs. Refrigerate overnight.
Preheat the oven to 130°C.
Pour the apple juice around the pork, cover with foil cook for 5 hours. Remove the foil for the final 20 minutes of cooking. Make sure there is around 2cm of liquid in the dish and if not then add a little extra apple juice.
You will know when the meat is ready as it will be falling off the bone.
While the meat is cooking make the coleslaw by combining the cabbage, onion, carrots, parsley and peanuts in a bowl, toss to combine. Add the aioli and toss again. Cover and refrigerate until needed.
Once the pork is cooked, pour the liquid from the dish into a bowl and allow to cool, skimming off the fat as it rises.
Once the pork is cool enough to handle, remove the skin, fat and bone and flake the meat using forks into small pieces. Place the pork in a bowl.
Combine the liquid in a saucepan with 1/2 cup of barbecue sauce and simmer until the sauce is thick. Mix the sauce into the meat.