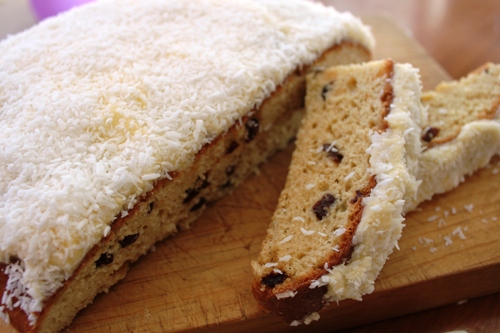 In  making my own Sally Lunn, I decided to work up from a traditional English recipe, and incorporate my favourite aspects of the New Zealand version i.e. the raisins and icing.  Virgil
Sally Lunn 2.1
Ingredients:
2 teaspoons active yeast granules
1/2 cup milk, warmed
2 teaspoons sugar
400g flour
1 cup raisins
finely grated rind of 1 lemon
100ml cream
50g melted butter
2 eggs
Icing
¾ cup softened  butter
1 cup icing sugar
1 teaspoon lemon juice
½ cup desiccated coconut
Method
Dissolve yeast in warm milk and mix in sugar, leave for 5 minutes until frothy.
Place  flour, raisins and lemon rind in a bowl.  Make a well in the centre and mix in milk, cream, butter and eggs.   Mix with a knife and then turn out onto a lightly floured surface and knead into a smooth and elastic.
Note: This much easier if done in a mixer.
Cover and leave to rise until doubled. Punch down and form into either 1 large or 2 small rounds on a greased or non-stick oven tray. Cover with a damp tea towel and leave to rise again for around 30 minutes.
Bake at 190 C for around 20-25 minutes, until golden brown in colour and a skewer inserted into the centre comes away clean.  Allow to cool on a cake rack.
To make the icing beat together butter, sugar and lemon juice until pale and fluffy.
Spread thickly over the completely cooled bread. Sprinkle coconut on top.
Serve with plenty of strong tea or coffee.