Try this roast chicken with lemon and nut pilaf.
Ingredients
1.6 kg chicken
1 lemon
2 cloves garlic
salt and freshly ground black pepper
thyme leaves
Method
Preheat oven to 180 C Rub the chicken skin with 1/2 of the lemon and sea salt. Halve the garlic cloves and insert in the chicken cavity along with the other half of the lemon and thyme leaves. Place in baking dish with breast side up and cook for 30 minutes, turn over and cook for another 30 minutes and then turn over again and cook for a further 20 minutes. Test to see if juices run clear by inserting a skewer into the thickest part of the thigh. Continue to cook until they do.
[homepageimage][/homepageimage]
[smallimage][/smallimage]
Method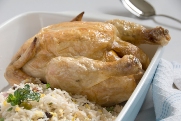 Article printed from Recipes For Food Lovers Including Cooking Tips At Foodlovers.co.nz: https://www.foodlovers.co.nz