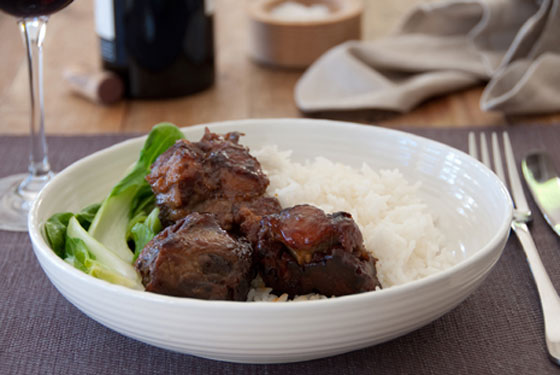 Helen
This dish is delicious and decadent. It is one of my entertaining favourites.
Ingredients
2kg oxtail, chopped into pieces
salt
1/4 cup flour
1/2 cup rice wine (or sherry)
3/4 cup soy sauce
2 tablespoons brown sugar
2 star anise
2 cups beef stock
1/2 cup water
2 cm knob ginger, sliced
1 red chilli, seeds removed and finely chopped
3 kaffir lime leaves – torn in half
2 x 2cm wide strips orange peel without pith
1 tsp finely grated lime rind
oil for frying
Method
Preheat oven to 170 C.
Place oxtail in a plastic bag with flour and salt - shake until oxtail is lightly covered wtih flour.
heat oil in a frying pan and brown oxtail in batches. Pour off fat from frying pan and wipe out any burnt fragments, pour rice wine into the pan and reduce by half. Place oxtail, rice wine, soy sauce, brown sugar, star anise, beef stock, water, ginger, lime leaves, and grated lime in a casserole, cover and cook for 3-4 hours until meat is falling off the bone. Remove meat from the casserole, cover and set aside. Allow liquid to cool and skim off fat as it rises. Check consistency of liquid and reduce if needed. (the sauce shouldn't be too thick)
Meanwhile heat a little oil in a frying pan over a high heat and brown oxtail until crisp. Serve oxtail pieces on steamed rice with greens and ladle over sauce.