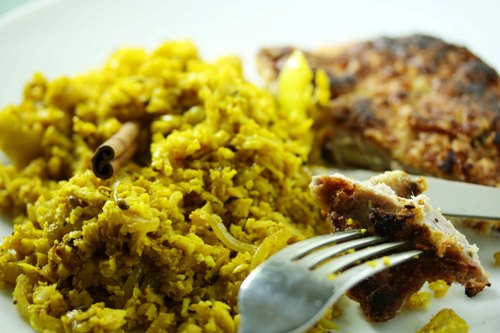 Janet Chang
This was tonight's dinner. Not bad for a quick put together on a weeknight.
I found free range pork cutlets on sale and immediately thought of making tonkatsu I used to love making tonkatsu with my mom when I was growing up. Tonkatsu is a Japanese style pork cutlet dish. My mom used to let me help by pounding the meat with a meat mallet to get it super thin. I skipped the pounding and adjusted the recipe to be grain-free and gluten-free.
The Cauliflower "Rice" Pilaf is an Indian style recipe which I free-styled with various spices I bought from the Indian grocer. It's a nice change from the usual green vegetables and is super easy to make. 250 grams of cauliflower (about 1.5 cups of grated cauliflower) has only about 60 calories, 5 grams of carbohydrates and 6 grams of fiber, which makes it a much healthier alternative to rice.
Pork Cutlet
300 grams pork cutlet
salt and pepper
1 egg beaten
1/2 cup or more of almond flour to coat
2 tbs of pork lard to fry
Heat the pork lard in a cast iron skillet on medium to high heat.
Season the pork cutlets with salt and pepper.
Dip the pork cutlets in the beaten egg mixture.
Coat evenly with the almond flour.
Fry until cooked through on both sides.
Drain on a paper towel before serving.
Cauliflower "Rice" Pilaf
500 grams grated cauliflower "rice" ( about 3 cups)
1 medium onion sliced into crescent rings
1 tbs ghee
1 tsp fennel seeds
1 tsp yellow mustard seeds
1 cinnamon stick
2 tsp turmeric
1 tsp paprika
1 tsp cumin
1/2 tsp cardamom
1/4 cup chicken stock
Melt ghee in a large skillet over medium heat.
Add the onions, fennel seeds, and mustard seeds, and cinnamon stick.
Stir until until onions are cooked and spices are fragrant.
Add in the cauliflower and the remaining spices.
Add in the chicken stock.
Stir until everything is mixed through.
Season with salt and pepper.
Makes 2 generous servings.