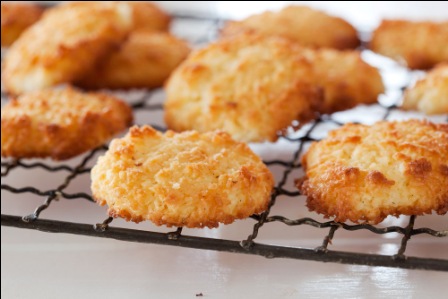 Margaret Beer
My mother used to make these biscuits for the church fair each year when I was a child, and they bring back a lot of memories. She lost the recipe but I think this is just about it. At least my 3 brothers assure me it is. Anyway, it has once more become the favourite with the next generation as it was with mine, and I hope you will get a lot of pleasure with it too.
*Note from Helen: due to concerns regarding the lack of flour the recipe has been retested and we were happy with the 2 tablespoons of flour that the original recipe used.  However, due to there being a few concerns we have increased it slightly without an adverse effect.
These are a popular biscuit in our house and the kids were more than happy with the recipe testing.
Ingredients
125g butter

125g sugar

1 teaspoon vanilla extract

3 cups (300g) desiccated coconut

1/4 cup (35g) flour

1 teaspoon baking powder

1 x size 7 egg (approx 62g)

1/4 cup (60ml) milk
Method
Preheat oven to 180 C.
Beat the butter, sugar and vanilla until pale and creamy, add the egg and beat well.
Add the coconut, flour and baking powder. Add the milk and mix well.  Place teaspoon dollops on a cold greased tray (or one lined with baking paper).
Flatten a little by gently pressing with your hand or use a flour dusted fork.
Bake for approximately 15 minutes until golden.
Cool on a wire rack and then store in an airtight container.