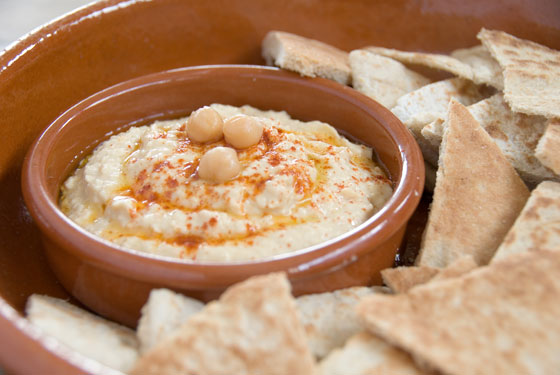 Years ago, long before our supermarket chillers were packed with processed dips and at a time when my favourite cookbooks were Moosewood and The Enchanted Broccoli Forest, I started a love affair with hummus.  Wellington based at the time, we  had a wonderful Turkish restaurant in Cuba St (Cafe Istanbul?) who along with other tasty delights, made the best hummus imaginable.  A thick luscious textured hummus that was loaded with enough garlic to ward off vampires for the week, we almost licked the bowl clean.
This was a time when chickpeas or garbanzo beans as they are also known, were sold dried, I don't think there were cans available and if so then we had never seen them.
Grown throughout the Middle East chickpeas are delicious when fresh but most commonly found as dried beans.
Hummus from dried chickpeas is started the day before with soaking the chickpeas in plenty of cold water (with some bicarbonate soda to aid softening), the next day the water is poured off, the chickpeas rinsed and then covered with plenty of cold water and boiled until tender.  Once cooked they are drained and sometimes peeled (a purist will tell you that removing skins makes better textured hummus), the chickpeas are then blended with garlic, lemon juice, salt and enough tahini to give richness and flavour but not so much as to dominate the chickpeas.  I also add cumin as I think it is essential for flavour.
Then there was the time when dried legumes in NZ were impossible.  If you could find them you couldn't get them to cook, no matter how hard you tried.  Something to do with the treatment of the beans before being allowed into NZ I think?
Once the dried legumes stopped being available everywhere there seemed to be a huge shift to canned chickpeas and with that change hummus could be made in an instance. Cheap and readily available, you only need to drain and rinse the chickpeas before proceeding with making hummus.  But are you compromising on taste?
While you are unlikely to get the same creamy richness that comes from dried chickpeas you can still make a hummus from canned chickpeas decidedly better than the bland gloop in the supermarket chillers, and the convenience factor of having canned chickpeas in the pantry is hard to beat.
One of the things I have love most about hummus is the ability to throw it together in a flash and there you have it – hummus, no cooking no chilling but hummus ready to eat.
Homemade and cheap but perhaps a little on the cheating side as I do tend to use canned chickpeas as while I aspire to soaking overnight and then cooking the dried, I am just not a forward thinker.  If I decide I want hummus I make it – done!
In this world of convenience shopping there is hummus of every flavour imaginable in the supermarket chiller and while many are OK, nothing quite compares to a good homemade hummus.
From its humble beginnings in the Middle East, like most recipes hummus has been chopped and changed at food writers whims.  Those who shun the fat content of tahini will often use yoghurt instead, sweet chilli sauce appears in some recipes as does parsley, sundried tomatoes and a whole range of flavours.
While I prefer to stick close to the original I do often make pumpkin hummus, enjoying the velvet smooth texture and the toasted seeds on top.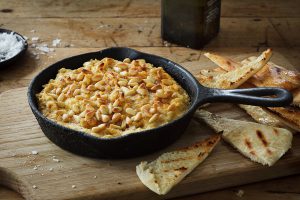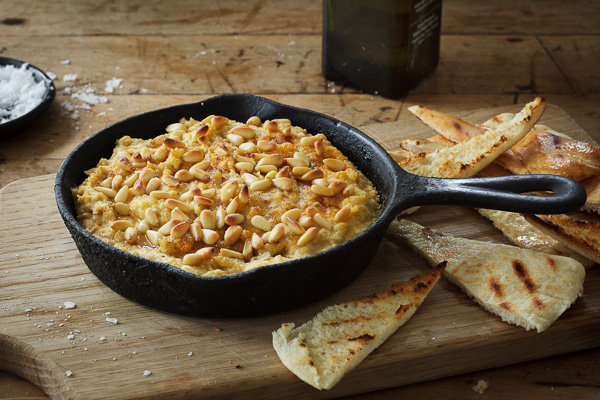 Another variation that is close to the original is heating hummus in a hot oven and serving it warm with pita bread.  Lovely for a mid winter dip.
However you make your hummus, take the time to think about the balance of flavours, the quantity of garlic, salt and lemon juice that you prefer and the ratio of tahini to chickpeas.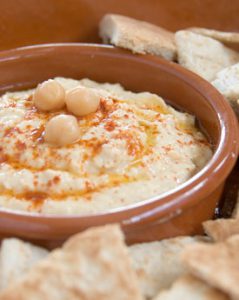 Hummus
2 cups dried chickpeas
1/3 cup tahini
1/2 teaspoon cumin
juice of 1 lemon
3 cloves garlic, finely chopped
extra virgin olive oil
paprika
Soak chickpeas over night (8 hours) in plenty of cold water and 1 teaspoon bicarbonate soda. Drain and rinse chickpeas and then cook in a large saucepan with plenty of water for approximately 45 minutes until tender. Remove from the heat, drain and cool. Set aside a few chickpeas to garnish hummus with if you like.
Place chick peas in a food processor along with tahini, cumin, lemon juice, garlic and a generous sprinkle of salt. Process until a thick paste adding a little water until you reach the consistency needed.  Taste and adjust flavours if needed .
Serve with a drizzle of olive oil and a sprinkle of paprika.
Excess hummus can be stored for up to a week in a covered container in the refrigerator.
Tahini is available in most supermarkets and lasts well in the fridge once opened.
Has anyone else tried fresh chickpeas?  On a trip to San Francisco earlier this year we found fresh chickpeas used in salads and as garnish at a quite a few restaurants.
They are reported to be growing here in Taupo but I haven't seen them…