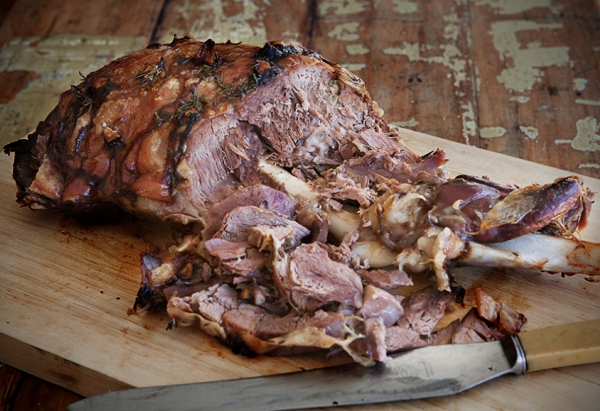 I like legs of lamb completely cooked with not a sign of pink.
When they are cooked long and slow the meat is tender and moist, it falls off the bone and is absolutely delicious!  Some say that the meat needs high heat first to caramelise the outside but I find that the skin is always golden and crisp.
The only problem is the potatoes, the heat is too low for good roasted vegetables.
I think therefore you should par boil them and when the lamb is resting increase the oven heat and roast the vegetables.
Ingredients
1 leg of lamb around 2.6kg

4 cloves garlic

2 x 20cm sprig of rosemary

salt and freshly ground black pepper
Method
Take the lamb out of the fridge at least 1 hour before cooking.
Place the lamb in a roasting dish and make incisions in the skin with a small sharp knife.
Halve the peeled garlic cloves lengthways and insert into the lamb,
Roughly chop the rosemary and place some under the lamb plus on top.
Preheat the oven to 130 C.
Pour about half a cup of water into the pan and season the lamb with salt and pepper.
Roast for about 5--6 hour or until the meat is pulling back from the shank bone and the meat is tender.