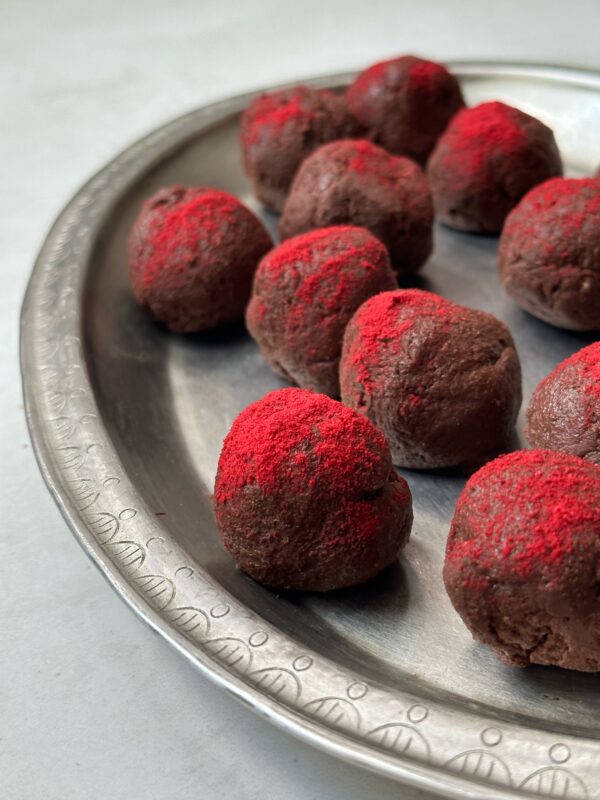 Ingredients
200g

vanilla or chocolate chip Kea cookies (crushed)

2 tablespoons (plus extra for sprinkling)

freeze-dried raspberries (crushed)

1/2 cup

cream

200g dark chocolate, roughly chopped

1 teaspoon vanilla extract
Method
In a medium bowl, combine the crushed biscuits, crushed freeze-dried raspberries and set aside.
In a small pot, heat the cream until it just begins to simmer. Remove from heat and add the chopped chocolate and vanilla extract. Leave to sit for 5 minutes and then stir until the chocolate is fully melted and the mixture is smooth.
Pour the chocolate mixture over the crushed biscuit mixture and mix well. Refrigerate the mixture for at least 1 hour or until firm.
Using a small spoon, roll the mixture into small balls. Place the truffles on a baking paper lined tray and refrigerate for at least 30 minutes.
Once chilled, roll the truffles in cocoa powder, extra crushed freeze-dried raspberries or melted chocolate.
Store the truffles in an airtight container in the refrigerator for up to 1 week.