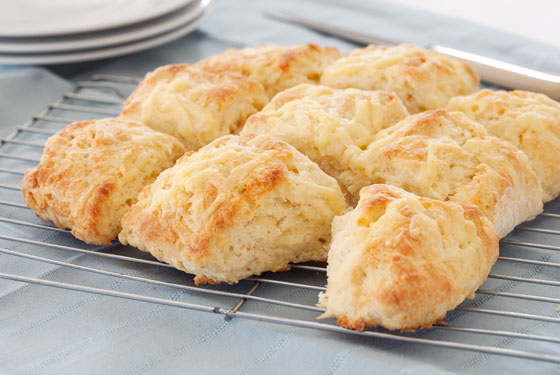 The key to good scones is to mix them quickly, don't over mix. Make sure the oven is hot and get them straight into the oven.
Check out our recipe also for Double Cheese Scones, as the name says, these have double the amount of cheese and also more liquid.  The mixture is dolloped onto a tray, making a super cheesey scone.
Ingredients
2 rounded cups of flour

1/2 teaspoon salt

50g (1.76oz) butter

3 teaspoons baking powder

1 cup (100g/3.52oz) grated tasty cheddar cheese

1 cup milk
Method
Preheat the oven to 220 C/428 F
Sift the flour and salt into a mixing bowl. Rub in the butter until the mixture resembles breadcrumbs.
Stir through the baking powder and then 1/2 cup of cheese.
Make a well in the centre and add milk, mixing quickly with a knife to form a soft dough.
Tip dough onto a lightly floured board and pat or roll into a rectangle. Cut into shapes and sprinkle with remaining cheese.
Place on a baking tray and cook for 12-15 minutes until a rich golden colour.