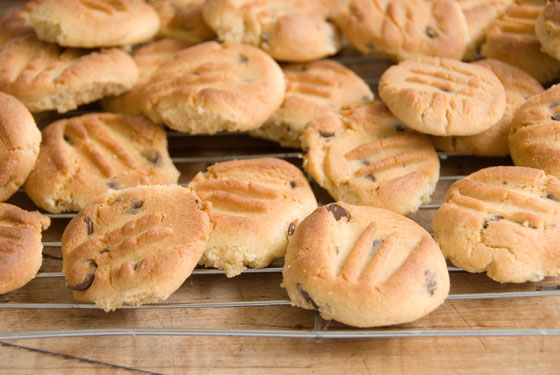 Sally Cameron
A chocolate chippie biscuit is a crunchy snack sized baked good, with sweetened chocolate morsels and the occasional nut or dried fruit for texture. It is guaranteed they will make an appearance in almost everyone's biscuit tin at some stage. These biscuits are an enduring legacy of how a product related recipe has become ingrained in our everyday lives. The journey of this recipe has been taken from two different pathways from either side of the world.
The chocolate chippie cookie recipes we find in our Grannies handwritten books, would more than likely originated in the United Kingdom. In New Zealand in 1913, a milk processing company "Highlander", maker of sweetened condensed milk, gave us Highlander biscuits. They were crunchy small biscuits, made without eggs, and condensed milk as the protein. It was a more war-time effort, improvising with store cupboard ingredients when provisions were low for a simple sweet treat. Condensed milk had been around for a long time, used for small baked goods, before fresh eggs and pasteurised milk was plentiful. The canning milk process created as far back as 1854 so that milk could be shipped around the world where refrigeration and pasteurisation was not common practise.
When food rations became more plentiful post war, the same recipe was revitalised using walnuts, glace cherries or with chocolate as a variation for flavouring.
As a parallel, the American story states that a cook at the Toll House café back in 1930, accidentally dropped chocolate chunks into a bowl of dough. The result was Mrs Wakefield's choc chip cookies, and soon became a hit and pure marketing genius. Nestle grabbed the idea for a new product – small chocolate chips, and reproduced the recipe on packs thereon in.
Cookies vs biscuits
A biscuit in America however, is closer in resemblance to a scone than a small cake. Biscuit and cookie are often used in common cookery circles to describe the same thing – a small, baked sweet treat ideally to be served with tea or coffee.
Which recipe is best?
Well that's like asking if you prefer tea or coffee. Where you live has a huge influence. There are other factors that come into good biscuit making. How easy is it to make? How many can be made quickly? and is it flavourful and cost effective?
Ease of production usually involves reducing unnecessary, arm tingling, wooden spoon snapping, hand mixing. A food processor, electric beater or cake mixer usually will suffice for mechanical intervention and ultimately speeds up the process. Plus you want the recipe to fit the mixer with not too little or not too much dough in the bowl. Ideally, more dough than not means that any leftover dough can be stored in the fridge or freezer, for quick warm biscuit treats.
However, there is one issue to be considered. To make a choc chippie biscuit in a food processor would mean that the chocolate would be ground up, and not the desired chunks of gooey chocolate we desire.
It has been said that it may be cheaper and less fuss all round to go to the shops and get packets of pre-made chocolate chippies, but they will never quite taste as good as the ones out of the oven at home, fresh, warm, crunchy and delicious.
So in conclusion, what is the best biscuit to make?
Who knows? There are tried and true recipes from whatever side of the world you live. But in my search for a biscuit that is value for money, saves time to make, tasty and crunchy, easy for anyone to make then you can't go past the following recipe.  Although if you do want to experiment a bit you can also try
Chocolate chip biscuits (kiwi crisps) using sweetened condensed milk
Oaty Nutty Chocolate Chip Cookies the recipe that was the centre of an urban myth re a US department store.
Peanut Butter Chocolate Chip Cookies
Double Chocolate Chip Cookies Cocoa in the mixture and chocolate chunks in the cookies.
The following recipe has been made a few hundred times, producing thousands of biscuits that have sold well at a Takapuna food store (Auckland). They are quick to make with the help of a trusty food processor, affordable value for money, makes heaps in a hurry and last a long time both uncooked and cooked. And importantly taste best dunked in a cup of tea.
White and Dark Choc Chip Cookies
I usually make these Sunday night before the school week begins.
Instead of chocolate chips, glace cherries, dried fruit like apricots, pineapple, cranberries, strawberries or chopped nuts to give different flavours your cookies. The better the chocolate, the better the biscuit.
225g butter, at room temperature
500g  plain flour
3 tsp baking powder
3 tsp  baking soda
150g soft brown sugar
1/2 tsp vanilla paste
1 x 375ml can sweetened condensed milk
200g white chocolate buttons, chopped
200g dark chocolate buttons, chopped
70g flaked almonds (optional)
Preheat oven to 180°C. Line a baking tray with baking paper.
In the bowl of a food processor place the butter, flour, baking powder and baking soda. Pulse until the mixture resembles breadcrumbs.
Tip the crumb into a large bowl. Mix in the sugar and vanilla, and then slowly add the condensed milk and chocolate chips and mix to smooth dough. May pay to get in with clean hands for this part.

Shape into walnut sized balls and arrange on baking sheet leaving about 4cm between each biscuit, press a few almonds onto the top of the biscuits, slightly flattening as you go. Keep the mixture covered between batches.
Bake in oven for 15 minutes until golden.