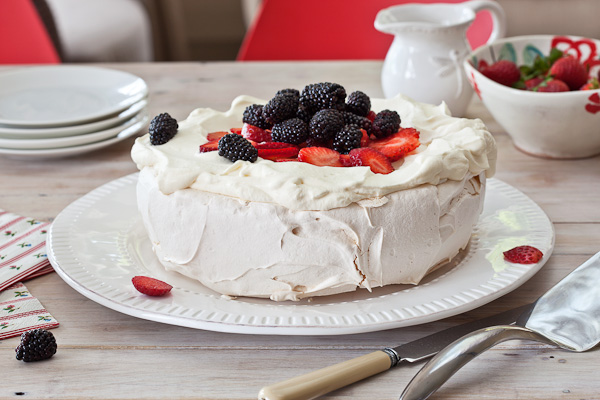 Christmas and pavlova are an essential combination.  On a hot Christmas Day one could be forgiven for forgetting to steam the fruit pudding but you just cannot ignore the luxurious pavlova, with its sweet crunchy meringue crust, marshmallow like centre, topped with clouds of cream, berries and passionfruit.
Named after the Russian ballerina Anna Pavlova who toured Australia and New Zealand in 1926, it has hotly been contested as to which country can lay claim to this delicate dessert with research from Professor Helen Leach at Otago University confirming that NZ can claim pavlova as its own.
While it is a hugely popular dessert, it is also one that causes many concerns in the kitchen, as without following a few golden rules and a tried and true recipe, things can easily go wrong.  However, once a recipe is found and the rules adhered to, making a really good pav is actually quite a doddle.
While a pavlova can be a meringue, a meringue is not a pavlova.  Meringues are much less complicated to make and are generally crisp and dry throughout.  Technically they should not have any chew however a chewy meringue can be really good  – see recipe for chewy chocolate meringues below.  The ideal pavlova generally has a crisp outer shell and soft marshmallow centre.
First things first though:
Equipment
You really do need a cake mixer with a whisk attachment, however a hand held beater will also work, you just need the patience to stand holding it.
The bowl should be glass or metal.
The mixer and bowl should be scrupulously clean and grease free.  The reason for not using a plastic bowl is that grease can stick to this which will stop your egg whites from reaching their maximum volume.

Eggs
Eggs should be at room temperature and when separating take care that no egg yolk makes it into the bowl at all.
Very fresh eggs are not ideal as the whites are very thick, as the egg ages the white thins and will create more volume when beaten.
I use Traditional Free Range Eggs from the Whangaripo Valley.  Knowing the the hens lead a fabulous free range life.
 Sugar
Caster sugar dissolves easier than regular white sugar, however if you don't have caster sugar on hand then you can whizz regular white sugar in the food processor until it is super fine.
The more sugar you use in the recipe the thicker and more brittle the crust will be.
Generally the ratio of sugar to egg is 55g of sugar to 1 size 7 egg white.
 Stabilisers
Different recipes have varying stabilisers that help the egg whites to retain their volume and give the desired texture of a marshmallow textured interior and a crisp meringue shell.
The addition of acid in a recipe is usual, sometimes a bowl will be rubbed with lemon or lemon juice, otherwise vinegar, lemon juice or cream of tarter will be in the ingredients.
A small amount of cornflour is also often used and it is debated as to whether this aids the soft inner texture or just helps to stabilise the egg whites.
A tablespoon or more of boiling water is also common.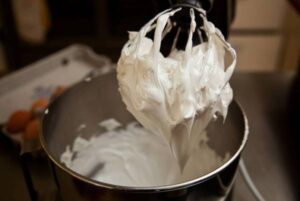 Technique
Most recipes call for sugar to be added gradually after the whites are first whisked to soft peaks.  However, I have a recipe for perfect pavlova (before you make this one though keep reading on), where everything is added to the bowl and mixed together and as you can read by the comments with it, it really does work out fine.  That was my last year's perfect pavlova but this year's research of around 10 pavlovas has made me think that I can achieve more volume from the egg whites by adding the sugar slowly.  The same recipe with the gradual addition of sugar made a 2 cm difference in height but no discernible difference in texture.  While this year I am adding the sugar slowly I wouldn't hesitate to do the former if time was an issue and I didn't want to stand spooning in sugar.
Whether you add your sugar first or gradually you do need to beat the mixture until the sugar is completely dissolved.  Try rubbing a little mixture between your thumb and fore finger – it should feel smooth with no grains left.
While it may then seem logical then that the longer beating the better – not so.  Over beaten egg whites will then cause oozing syrup from your pav.  Not weeping like an under cooked pavlova but coloured liquid bubbles popping out.from the meringue.  I would advise 15 minutes maximum of beating.  Your mixture should be thick and glossy and form peaks when the beater is lifted from the mixture.
This mixture is then piled into a circle on a baking paper lined tray, drawing a ring with pencil around the underside of the paper using a cake pan for guidance is a good way to get a uniform shape.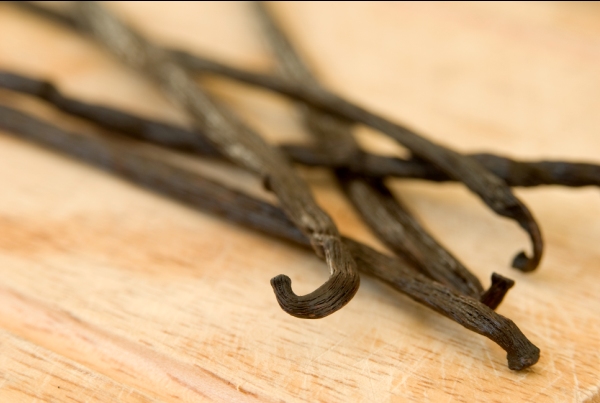 Flavours
Usually a pavlova recipe will have the addition of vanilla as a flavour.  Quality vanilla extract is recommended for a pure flavour such as Heilala Vanilla.  Vanilla essence is made with synthetic ingredients.
For a pavlova with a differenece freeze dried fruit powders can be used as well as chopped chocolate or nuts.  It is best to gently fold through ingredients containing fat (such as chocolate or nuts)  at the end of mixing so as not to disturb the volume in the egg whites.
Oven and Cooking
Pavlovas are usually cooked at a long slow temperature and the oven door must not be opened at all!  Once the cooking time is finished the pavlova is left to cool in the oven so as not to have any dramatic change in temperature that could cause collapse.
Some cooks start their pavlova off briefly at high temperature such as this tried and true recipe from Raewyn.  I prefer to cook mine long and slow.  Basically the cooking is to remove moisture from the pavlova – to dry it out, I find this is best achieved at 120 C or less.  The higher the heat the more chance you have of your shell cracking.
You do need to make sure that your pavlova is thoroughly cooked though as under cooked pavlovas can weep clearish egg white looking liquid from the base.
Meringues
Meringues are much less fuss than a pav but still some cooks fret.  Generally they are made with egg white and sugar and need little else although vinegar can help to maintain their shape and volume.
I have adopted a cooking method, read somewhere around the internet, of cooking meringues at the slowest of heat e.g 60 C, or as low as your oven goes.  I almost ignore them and leave for 4 hours (depending on size) before checking (yes you can open the oven door to check if they are ready). When they are firm and sound hollow when the base is tapped, they are cooked. Wedge a wooden spoon in the oven door to hold it slightly open, turn the oven off and leave the meringues to cool in the oven.  The resulting meringues should be crisp and dry.  Chewiness is not supposed to be a positive characteristic but if you do like a bit of chew then remove the meringues from the oven before it is completely cold and reduce your cooking time a little.
Storage and Weather
Pavlova and meringues are best stored in an airtight container.  Pavlova should be fine for a few days and meringues longer.  Humidity affects this and it is said that you shouldn't make pavlova or meringues on a humid day.
NB – all of these recipes and photos were created on days of high humidity with no noticeable adverse effects.
The Most Perfect Pavlova Recipe
6 x size 7 egg whites (at room temperature)
1 3/4 cup caster sugar
2 teaspoons cornflour
1 teaspoon vinegar
1 teaspoon Heilala vanilla extract or vanilla paste
1 tablespoon boiling water
Preheat oven to 110 C.  Place egg whites in the bowl of a mixer (ensuring bowl and whisk are perfectly clean).  Whisk until soft peaks form when the beater is lifted from the mixture.  Continue to mix, gradually adding sugar at a tablespoon or so at a time and waiting between each addition, add cornflour with last of the sugar.  Adding all of the sugar could take 5-6 minutes.  Continue to mix until you can't feel any sugar when a small amount of mixture is rubbed between your index finger and thumb.  Lastly add vinegar, vanilla and boiling water and allow to mix a minute more.
Using a pencil draw a 24cm circle with a cake pan for guidance on a piece of baking paper.  Place the baking paper, pencil side down, on a baking tray.  Spoon the meringue into the circle, smoothing the sides.
Place the tray in the oven and cook for 1 1/2 hours.  Turn the oven off without opening the door and allow to cool for at least 2 hours more or overnight.
Invert pavlova onto a serving plate, peel off baking paper and top with whipped cream and fruit.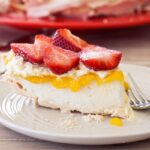 Pavlova with Lemon Curd
A great way to use up the egg yolks as well.
---
These meringues are classically lovely.  Crisp and pretty they are a perfect partner for berries and cream.
---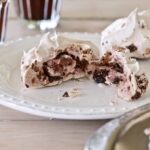 Chewy Chocolate Meringues
Technically not how meringues should be but who could resist such a crunchy, chewy chocolate mouthful.
Gorgeous alone or partnered with raspberries and cream.
---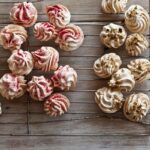 Flavoured and Coloured Meringues
Ground nuts, fruit flavours, brown sugar…. variations worth trying.
---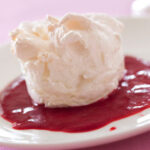 Individual Pavlovas
These look so pretty on the plate, almost floating in a pool of coulis.
---
Eton Mess
A great way to use up left over merinuges or pavlova shell.
---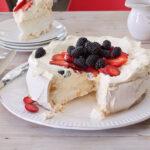 The Most Perfect Pavlova
This really is my favourite pavlova, crisp thin shell and marshmallow centre.
---
2011 Perfect Pavlova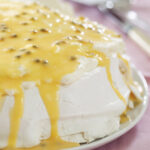 ---