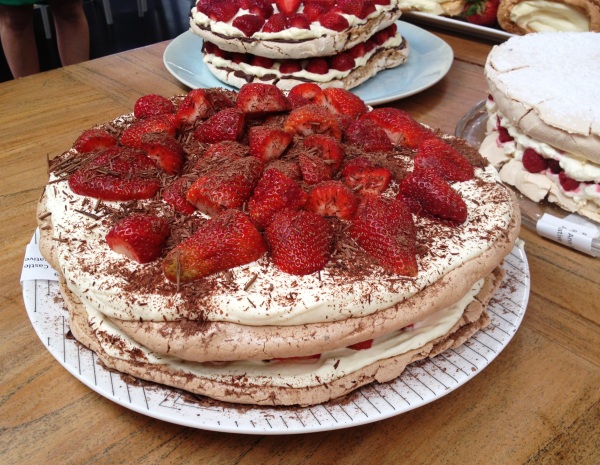 Last week while most of you were still digesting breakfast, I was eating my way through pavlova at the Nosh annual pavlova competition.
With 40 pavs to pick from it was no easy task choosing champions from the 3 categories –  adult, alternative and kids.
Having spent the month prior testing pavlovas to find the perfect pavlova recipe for our Christmas feature I felt well equipped to judge but once I started looking and tasting some of my criteria took a dramatic sideways shift.  For example, a pavlova technically speaking should have soft marshmallow in the centre but what about those that are more crunchy with a caramelised chewy centre – not technically perfect but they taste damn good!
Thank goodness there were 3 of us judging to keep each other on track and interestingly enough our choices were essentially the same.
The adult category winner was a classic pavlova but topped with rose petals, homemade turkish delight, raspberries and pistachios with a hint of rose water in there as well – bliss!
The child winner I later found out was made from our fabulous pavlova recipe here on foodlovers with the addition of chocolate chips and topped with chocolate cream and chocolate Christmas trees.
The alternative winner though is the pav that I simply wanted to sit with a fork and devour – yes even 40 pavlovas later!
It is crispy, chewy and has a wonderful flavour,  while it was lovely with strawberries, I think that I will make it with raspberries instead.
Amy's chocolate and strawberry pavlova
Amy Castle
Adapted from 'What Katie Ate'
Ingredients:
6 x free range egg whites
300g caster sugar
3 Tbs. cocoa powder
1 Tbs. balsamic vinegar
50g dark chocolate (At least 70% cocoa), chopped into small pieces
3 punnets of fresh strawberries, halved
500ml cream, whipped (you can add a tablespoon of caster sugar to sweeten if you wish)
Method:
Preheat oven to 180˚C
Place egg whites in a bowl and beat with an electric mixer or by hand until soft peaks form.
Add the caster sugar to the egg white mixture one tablespoon at a time and continue beating until the egg whites become stiff and glossy. The mixture is ready once it forms stiff, glossy peaks and you can hold the bowl upside down without any of it falling out. Rub a little of the mixture between your fingers to check the sugar is dissolved.
Sift in the cocoa powder into the egg whites, add the balsamic vinegar and chopped up chocolate, and using a large spoon or spatula slowly and carefully fold the mixture until fully combined.
Draw firmly around the edge of a dinner plate placed on baking paper with a pencil or pen to form a circle – this will act as a guide and ensure both pavlovas are the same size. Flip the paper over so the ink/pencil lead is touching the tray side as opposed to the pavlova side, you'll still be able to see the line through the paper.
Line 2 large, flat oven trays with the baking paper – dab a little bit of the pavlova mixture underneath each corner of the paper as it helps it stick to the tray and avoids the paper slipping whilst you are forming the Pavlova circles.
Load up each circle with an equal amount of the mixture, smoothing it out to the edge of the line.
Place in oven and immediately reduce heat to 140˚C.
Cook for 1 hour and 15 minutes. Do not open the oven door whilst the pavlova is cooking.
You'll know when the pavlova is cooked when it looks crisp at the edges which will have started to crack slightly.
Turn off the oven and open the door so it is slightly ajar, leave the pavlova in the over to cool completely, overnight is best.
To assemble:
Place one disc on a serving platter or cake stand and spoon half of the whipped cream on top.
Scatter half of the strawberries onto the cream and then place the second meringue disc on top.
Pile on the remaining cream and strawberries.
Sprinkle with finely chopped/grated chocolate and serve.