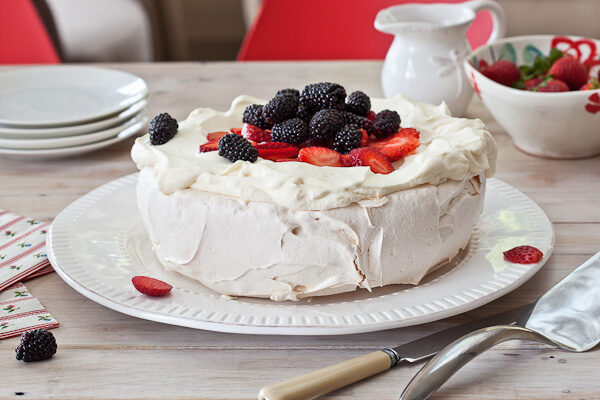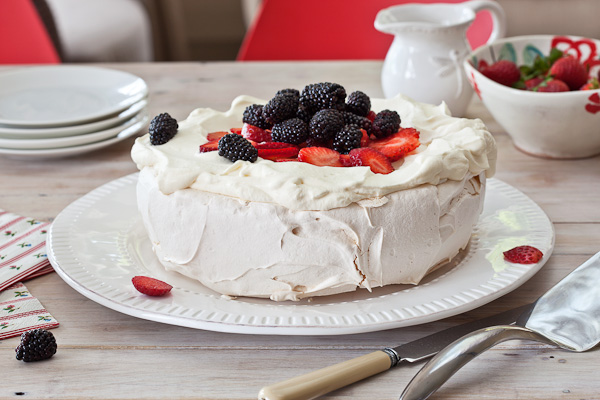 I have made this recipe for quite a few years now and it has always been a success.
The crust is usually very crisp with a marshmallow centre.
This year (2016) I tried reducing the sugar back by 1/4 cup which meant the crust was not as crisp, more firm and chewy than crunchy but meant it was easy to slice without cracking.
Ingredients
6

size 7 egg whites

1

1/2 cups caster sugar

2 teaspoons cornflour

1 teaspoon vinegar

1 teaspoon vanilla extract

1 tablespoon boiling water
Method
Preheat oven to 110 C. Place egg whites in the bowl of a mixer (ensuring bowl and whisk are perfectly clean). Whisk until soft peaks form when the beater is lifted from the mixture. Continue to mix, gradually adding sugar at a tablespoon or so at a time and waiting between each addition, add cornflour with last of the sugar. Adding all of the sugar could take 5-6 minutes. Continue to mix until you can't feel any sugar when a small amount of mixture is rubbed between your index finger and thumb. Lastly add cornflour, vinegar, vanilla and boiling water and allow to mix a minute more.
Using a pencil draw a 24cm circle with a cake pan for guidance on a piece of baking paper. Place the baking paper, pencil side down, on a baking tray. Spoon the meringue into the circle, smoothing the sides.
Place the tray in the oven and cook for 1 1/2 hours. Turn the oven off without opening the door and allow to cool for at least 2 hours more or overnight.
Invert pavlova onto a serving plate, peel off baking paper and top with whipped cream and fruit.