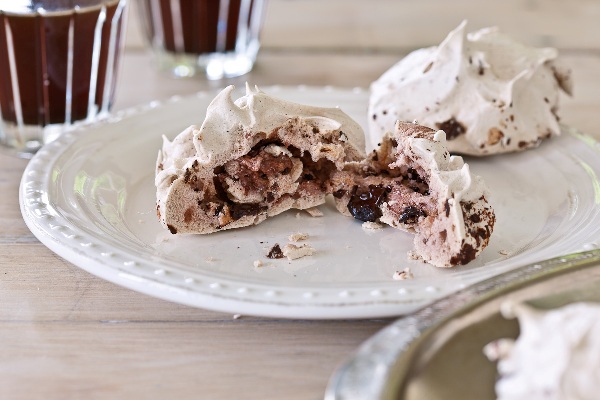 Crunchy on the outside and chewy on the inner, these meringues are not technically meringues as they have more than just sugar and egg white but I assure you they are delicious.    The vinegar, boiling water and cornflour help to stabilise the mixture so therefore they are not as temperamental as meringues can sometimes be.
Yield:
Makes 18 meringues
Ingredients
3

size 7 egg whites

3/4 cup

caster sugar

1

teaspoon cornflour

1

teaspoon cocoa

1/2 teaspoon

white vinegar

2 teapoons

boiling water

50g quality dark chocolate, chopped
Method
Preheat oven to 110 C. Whisk the egg whites until foamy and with the motor running pour in the combined sugar, cocoa, cornflour and then vinegar and boiling water.  Beat for 10 minutes until meringue is thick and glossy.  Using a metal spoon fold through the chocolate taking care not to over mix.
Place large spoonfuls of mixture on a baking paper lined tray and bake for 1 hour or longer, until meringues feel firm and almost hollow when tapped.  Place a wooden spoon in the oven door and turn the oven off.  Leave the meringues in the oven for 30 minutes or longer before removing.
These meringues should be chewy on the inside and crisp on the outside.
Serve with berries and cream.