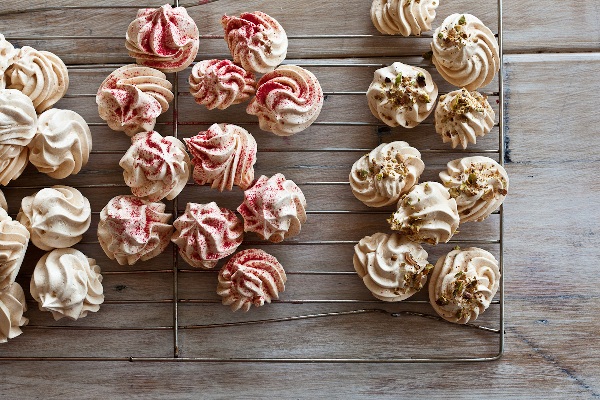 Ingredients
3

size 7 egg whites

3/4 cup

caster sugar

1/2

teaspoon vinegar
Method
Preheat oven to 60°C.  Beat egg whites until soft peaks and then with the motor running gradually add sugar until the mixture is thick and glossy and the sugar completely dissolved.  To check on this rub a little mixture between your thumb and forefinger, you should not be able to feel any sugar.  Lastly mix in vinegar.
Spoon mixture into a piping bag and pipe onto a baking paper lined tray.  Bake for 3-4 hours or until meringues feel firm and sound hollow when tapped on the base.  Turn oven off and allow to cool in the oven.
* You can cook at a higher heat - 120 C for 1 1/4 hours if you would prefer.  The meringues take on more colour if they are cooked at a higher temperature,  the lower the temperature the paler the meringues.
Flavour variations and when to add
Freeze dried fruit powderscan be added to the meringue mixture, these will look pretty in colour as raw mixture but will dull when cooked.  You may need to add a few drops of colouring to maintain a pretty colour.  That way you will have both colour and flavour.
Chopped nuts eg pistachios and almonds, can be folded through the mixture or sprinkled on top.  If you are incorporating them into the meringue then take care to fold gently and briefly and right at the end of mixing.  Nut oils like any fat can cause the eggs to lose their volume and thus flop.
Chocolate chunks or chips can be folded through at the end of mixing but as with nuts,do this briefly to avoid fats impacting on the egg whites.

Flavours to try
toasted coconut
almond, date and chocolate
pistachio
berry
vanilla
coffee (dissolved in a little boiling water)
chocolate
hazelnut