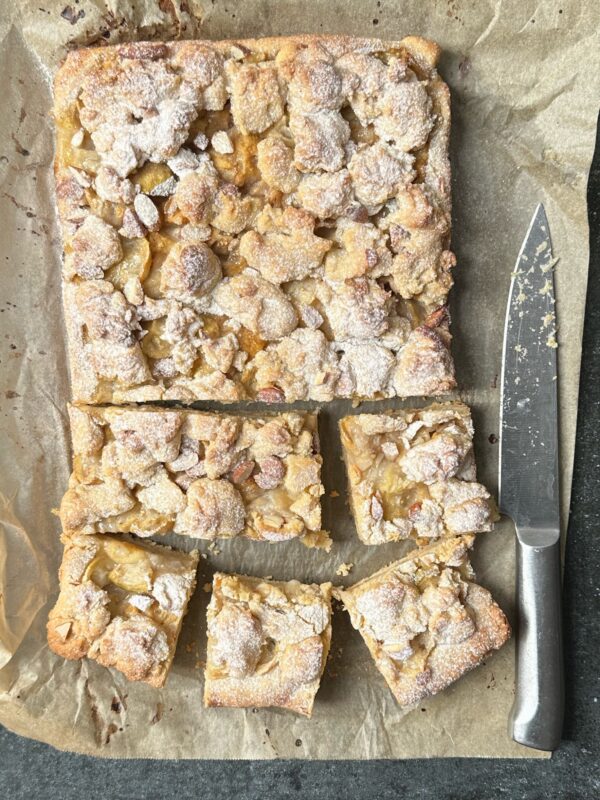 This shortcake is suitable for all types of fruit and is the same recipe base as our hugely popular Raspberry & White Chocolate Shortcake.  What makes it so good is the rich buttery base.  We have 4 feijoa trees so it is great to be able to utilise the fruit in recipes and this shortcake with ginger and lemon is such a lovely combination
Ingredients
200g

butter

1 cup

sugar

1

egg

1 teaspoon

grated lemon zest

2 1/2 cups

flour

1 1/2 teaspoons

baking powder

1 1/2 teaspoons

ground ginger

1 1/2 cups

feijoa pulp

1/3 cup

almonds, chopped
Method
Preheat the oven to 180 C (350 F).
Line a 28 x 19cm (19 x 7.5 inches) slice pan with baking paper.
Mix the butter and sugar until light and fluffy.  Mix in the lemon zest and egg, beat well.
Add the combined flour and baking powder and mix well.
Press 3/4 of the mixture into the slice pan.
Cover the base with the feijoas.
Mix the almonds into the base mixture and scatter this over the feijoas in rough clumps.
Bake for 30-35 minutes until the crumble is golden.
Serve warm or at room temperature dusted with icing sugar and a good dollop of yoghurt or whipped cream.