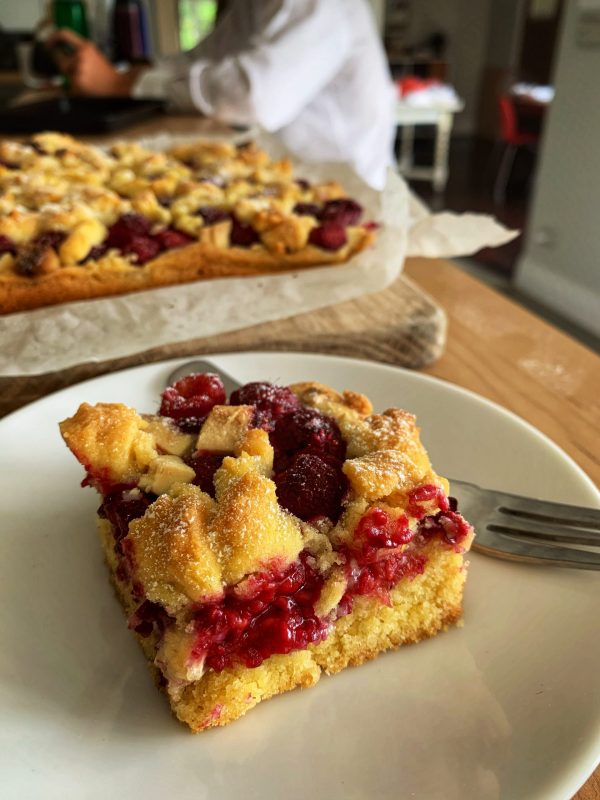 This slice is delicious warm as a dessert with a dollop of whipped cream or ice cream, or serve it at room temperature for afternoon tea.
We made it at rowing camp as dessert for 70 rowers  (just multiply the recipe) and it was a hit.  So much so that I came home with a new favourite recipe.
The original source seems to have come from Food magazine and then the Countdown website, I have made a couple of modifications to the original recipe  in terms of proportions of ingredients (more flour and lots more chocolate) plus have added lemon zest.
Yield:
Serves 10 as dessert or cut into 20 pieces
Ingredients
200g (7 oz)

butter, softened

1 cup (200g or 7oz)

sugar

1 teaspoon

finely grated lemon zest

1

egg

2 1/2 cups (300g or 10.5oz)

flour

1 1/2 teaspoons

baking powder

150g (5.29oz)

white chocolate, chopped

2 1/2 cups

frozen raspberries

icing (confectioners) sugar to dust
Method
Preheat the oven to 180 C (350 F).
Line a 28 x 19cm (19 x 7.5 inches) slice pan with baking paper.
Mix the butter and sugar until light and fluffy.  Mix in the lemon zest and egg, beat well.
Add the combined flour and baking powder and mix well.
Press 3/4 of the mixture into the slice pan.
Cover the base with the white chocolate and raspberries.
Sprinkle over the remaining base mixture.
Bake for 30-35 minutes until the crumble is golden.
Serve warm or at room temperature dusted with icing sugar.