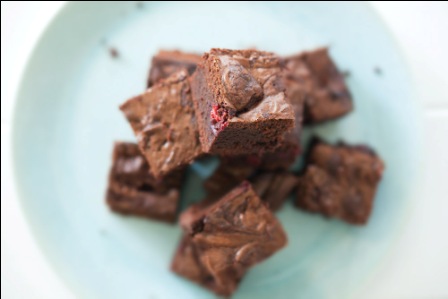 This Brownie has a perfect combination of chewiness with a soft centre.  The raspberries are a perfect foil for the sweetness of the chocolate.
Do look at our other Brownie Recipes for varying options.
By
Ingredients
125g

dark chocolate. chopped

175g

butter

1 teaspoon

vanilla extract

2

size 7 eggs

1 cup

sugar

1 1/4 cups

flour

1 cup

raspberries, fresh or frozen
Method
Preheat oven to 180 C.  Melt the chocolate and butter in a small saucepan over a gentle heat.  Stir until smooth and set aside to cool slightly.
Mix eggs and sugar until thick and creamy and then mix in chocolate mixture, vanilla, flour and lastly raspberries.
Pour into a lined 20cm square cake tin.  Bake for 30 minutes unitl top feels firm and starting to wrinkle.
Cool in the tin for a few minutes and then transfer to a wire rack until cold and then cut into pieces.  Dust with icing sugar if you like.
We use Anchor Butter