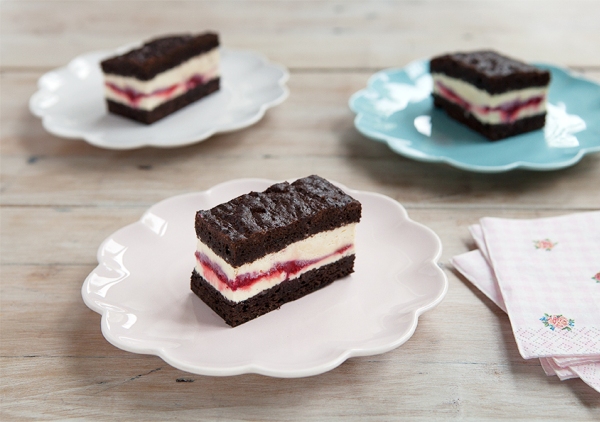 This is destined to be our favourite dessert this summer. It is easy to make and is ideal for barbecues, family gatherings and kids parties. Popular with both young and old, it is easy to eat by hand or with a spoon if you prefer.
The sandwich will last well in the freezer, just make sure it is securely wrapped in clingfilm and then foil to prevent the brownie from drying out.
By
Ingredients
150g butter, softened

1 1/2 cups sugar

3 eggs

1 cup flour

1/2 cup ground almonds*

3/4 cup cocoa (choose a dark coloured cocoa)

1 1/2 cups raspberries, fresh or frozen

1/4 cup sugar

1 tablespoon brandy

850ml vanilla ice cream
Method
Preheat the oven to 170 C.  Line a 28cm x 18cm slice tin with baking paper.
Beat the butter and sugar until pale and creamy, add eggs, one at a time, mixing well after each addition.
Add the combined flour,  almonds and cocoa and mix to combine.
Spread the batter into the prepared tin and bake for 15-20 minutes or until the brownie is just starting to feel firm on top.  It should be still fudgy and take care not to over cook it.
Allow the brownie to cool for 5 minutes in the tin and then transfer to a wire rack to cool completely.  Leave it to cool for an hour or more.
While the brownie is cooling, place the raspberries in a bowl with the sugar and brandy.  The brandy is optional but it will help prevent the raspberries from becoming too icy and the flavour is difficult to detect.  Mash the raspberries with a potato masher until pulpy.  Set aside.
Once the brownie is completely cold split in half horizontally with a bread knife or sharp long blade knife.
Remove the ice cream from the freezer and allow it to soften for about 10 minutes.
Slice the ice cream and arrange a layer approximately .5 cm thick over the surface of the brownie base.  Spoon the raspberries over the ice cream and then cover withe remaining ice cream.  Press the ice cream gently to ensure gaps are filled and you have an even coverage.  Cover with the remaining brownie layer.  Wrap firmly in plastic clingfilm and then with a layer of foil.  Freeze for 8 hours or longer if you like.
Remove from the freezer 10 minutes prior to serving and cut into bars.
Either eat with your hands and a serviette or on a plate with a spoon.
* if you don't have ground almonds then just use 1/2 cup more flour.