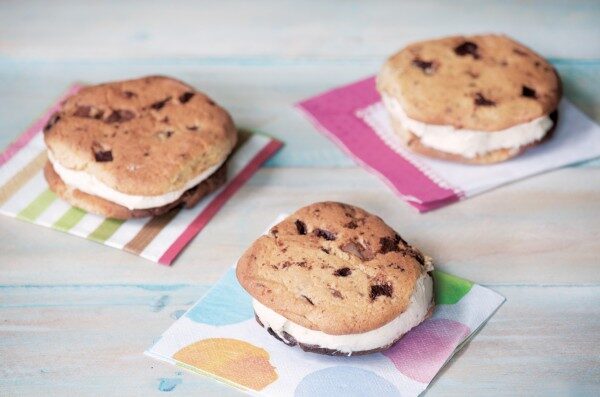 Ingredients
125g butter

1/2 cup brown sugar

1/2 cup white sugar

1 egg

1 teaspoon vanilla extract

1 3/4

cups flour

1 teaspoon baking powder

1 cup

chopped chocolate

500ml

vanilla ice cream
Method
Beat butter and sugars until light and fluffy, add the egg and vanilla and beat well.
Mix in flour and baking powder and lastly the chocolate chunks.
Tip the dough out onto a lightly floured board and roll the dough into a log approximately 5cm in diameter.  Wrap in plastic clingfilm and refrigerate for at least 1 hour.
Preheat the oven to 180 C.
Slice the dough 14 slices and then place on a cold lined baking tray allowing room to spread.  Bake for 15 minutes or until golden.
Cool biscuits on a wire rack.
Once cold sandwich together with vanilla ice cream, wrap in plastic clingfilm and freeze for at least 4 hours before serving.