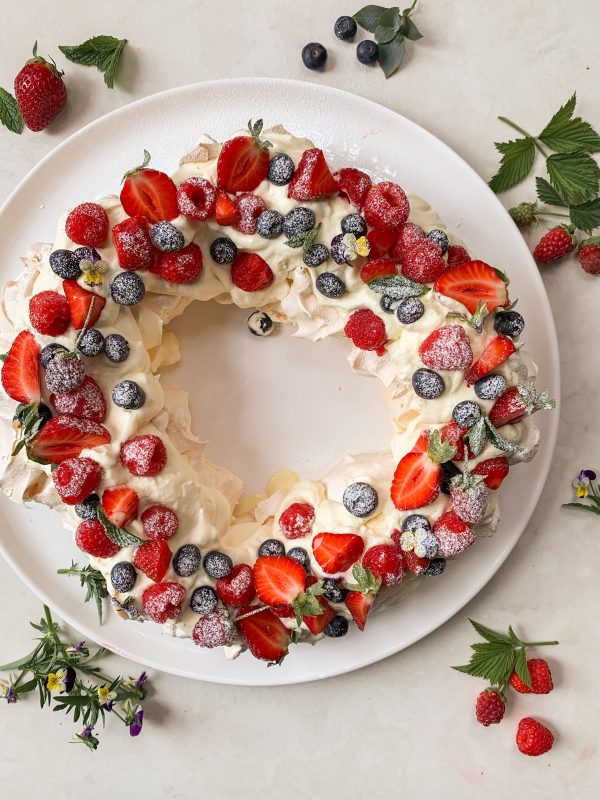 A pavlova wreath makes an interesting variation to the typical pav. They are very easy to slice without fear of the whole dessert collapsing.  They also slice easily into uniform pieces.
Decorate with berries, edible flowers or other sliced fruit.
Ingredients
6 size 7

egg whites, at room temperature

1 1/2 cups (330g/12 oz)

caster sugar

1 teaspoon

white wine vinegar

2 teaspoons

cornflour

1 teaspoon

vanilla extract

300ml

cream, whipped (to serve)

berries, mint leaves, edible flowers
Method
Preheat the oven to 140 C (284 F).   On a sheet of baking paper draw a 30cm (12 inch) circle, using a cake tin ring is perfect for this.  Inside the circle draw another circle approximately 15cm in diameter.  Turn the baking paper over and place on an oven tray.
Place egg whites in the bowl of a mixer (ensuring bowl and whisk are perfectly clean). Whisk until the whites are foamy. Continue to mix, gradually adding sugar at a tablespoon or so at a time and waiting between each addition, add cornflour with last of the sugar. Adding all of the sugar could take 5-6 minutes.  Lastly add the vinegar, vanilla and cornflour and allow to mix a minute more.
Spoon the meringue onto the baking paper within the lines, try and keep height to your wreath as opposed to width.  Gently make a small channel along the surface of the meringue to allow the cream to nestle in once the pavlova is cooked.
Place the tray in the oven and cook for 65 minutes until the meringue feels crisp. Turn the oven off without opening the door and allow to cool, preferably leave in the oven overnight.
When ready to serve, carefully lift the pavlova off the baking paper and onto a large plate.
Top with whipped cream, berries, mint leaves and edible flowers.
Serve at once.