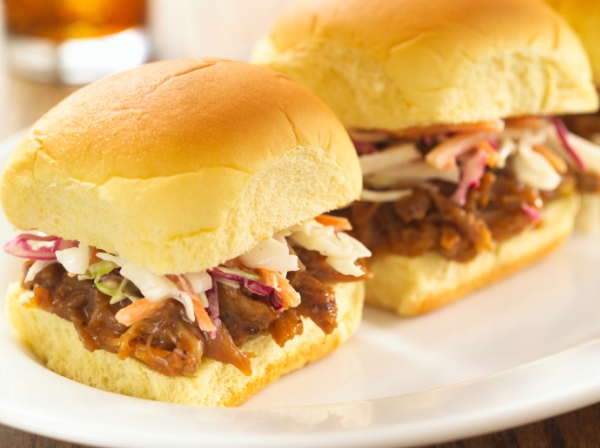 I will remember the food of 2012 by two things, pulled pork in sliders and salted caramel (in many forms).
While I made salted caramel in vast quantities it took until the early days of 2013 to make pulled pork.  Pulled pork sliders were made famous in NZ by Al Brown and Sean Armstrong from Loaf  I enjoyed eating pork slders when other people made them, but I have always found big chunks of pork a bit daunting and never quite organised  organised enough to start the process a day in advance.
However, a new year and some time on holiday meant more time to think about what we ate and it was time to make pulled pork sliders.  Having repeated them now on numerous occasions I marvel at how difficult it is to go wrong and how fabulous they are for serving with drinks.  Forget fiddly canapes, dips and chips, with slider in hand you need nothing more!
The recipe is really flexibile and you can add different spices or herbs to taste.
This is, in my mind, perfect pulled pork:
First off, purchase a piece of pork shoulder, either bone in or out and about a 2kg piece (with bone in) will be plenty for 8 people as a snack with drinks.
24 hours prior to serving, place the pork in a baking dish and rub with
2 tablespoons smoked paprika
2 teaspoon fennel seeds
1 teaspoon ground coriander
2 teaspoons dried oregano
1/2 teaspoon ground mustard powder
1/4 teaspoon cayenne pepper
generous amount of salt and freshly ground black pepper
few sprigs of thyme
Refrigerate uncovered overnight.
6 hours or so before you plan to serve the pork, preheat the oven to 130 celsius.
Pour 1 cup apple juice (or half apple juice, half cider) around the pork and cook for 5 hours, adding more apple juice during cooking to keep a depth of approximately 2cm around the pork.  The liquid helps to keep the meat nice and moist.
You will know when it is ready as the meat will be meltingly tender and soft.
Pour the liquid off into a bowl and skim off fat as it rises.
Combine the liquide in a saucepan with around 1/2 cup of homemade tomato sauce or barbecue sauce and simmer until the sauce is thick.
Remove fat, skin and bone from the pork and using your fingers or forks if you prefer, flake the meat into small pieces into a bowl.  Pour the sauce over the meat and mix well.
Some recipes add the tomato/barbecue sauce into the pan while cooking the sauce and then pour this over the meat.  When you see the amount of fat that comes off the liquid, I prefer to scoop that off first and then reduce the liquid with the sauce.
Pork sliders are delicious wtih coleslaw, finely shred green or red cabbage (or both), grated carrot, finely chopped red onion, finely chopped celery, chopped parsley and a handful of salted peanuts (if you like), add dollops of aioli (I use Kato) and mix well.
Heat slider buns (ie dinner rolls) in the oven and fill sliders with pork and slaw and serve.
The quantity of pork will give a generous amount for around 32 sliders.