Below you will find our Mexico itinerary that although we haven't got dates confirmed at present.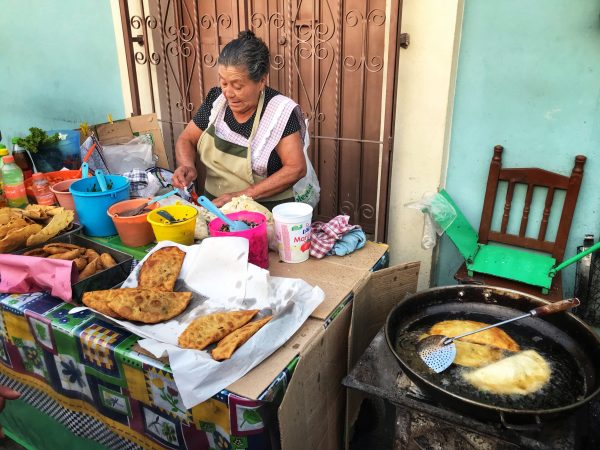 Our Mexico trip in 2019 was so much fun with amazing food, awesome sights, so much colour, a bit of dancing and great people,  so good that I really want to do it again!
I also need another excuse to practice my very basic Spanish!
This will be my 3rd trip to Mexico and even though this year was wonderful, I know that this next trip is going to be even better as I have tweaked it all yet again.
Group size is small – maximum 10. We travel in a Mercedes type small bus, just perfect for our group.
Our Mexican guide is just adorable, he has a wonderful sense of humour, loves to sing and works tirelessly to make sure everything is perfect.
This trip is queue free, easy travel, we are whisked past the crowds and everything is planned seamlessly to give you a stress free holiday!
"The itineraries that Helen comes up with always have a lovely balance between sightseeing/cultural/ culinary activities and periods of relaxation coupled with some free time for shopping etc. Helen also tries to get away from the usual tourist traps and seeks out more authentic experiences."

Shelley (4x traveller with Helen)

Price $7690  p/p (twin share in NZ$)
What to look forward to:
Stay at charming 5* boutique hotels plus one eco hotel
Explore the old and new of Mexico
Snorkel with giant sea turtles
Visit stylish Roma in Mexico city, made famous by the film of the same name.
See a selection of Frida Kahlo and Rivera Diego art
Visit the home of Frida Kahlo
Explore the charming and colourful towns of Oaxaca and Puebla
Learn to make Mole in Puebla
Hit the beach (and the shops) in Tulum
Eat amazing food.
Sip mojitos made with fresh sugar cane & limes
Experience a walking food tour in both Mexico City and Oaxaca. One being new food the other more traditional.
"Helen is well organised and very obliging to accomodate everyone on her tours. Because of her friendly nature she has a good relationship with the guides in the countries being visited which in turn makes the trips more enjoyable. I now consider her a very good friend."
Kate (3 x traveller with Helen)
Day 01/Sunday 26th April. 

MEXICO CITY
Late arrival into Mexico City (flight arrives in around 11.30pm). Our guide will be at the airport to meet us and then transfer us to our charming hotel – The Gran Hotel Ciudad de Mexico (to be confirmed closer to the time).
Day 02/ Monday 27th April. 
MEXICO CITY
In the morning after a hotel breakfast we will head out on a walking tour in the Historic Centre of the City, including some of the most important sights around "El Zocalo", the heart of the city. Today, you will get to soak up the atmosphere of one of the world's biggest cities!
We will visit the Metropolitan Cathedral – one of the oldest and largest of the Americas, and (if open due to Federal agenda) the National Palace – home of the famous murals of Diego Rivera. You will also see the ruins of the Templo Mayor – an important temple of the Aztecs in their ancient capital city of Tenochtitlan.
Lunch at El Caifan, a local 'taqueria' to taste delicious dishes, like 'tacos al pastor'. We continue our walking tour, visiting other Colonial buildings, like the Fine Arts National Palace, the Palacio Postal (a 'must' visit, due to its interior beauty), as well as some alleyways.
There will be time to freshen up at the hotel before dinner.
Knowing that most of us will be feeling a bit weary we will head out for an early dinner at one of the oldest, most popular and classic salones, Salon Corona. Founded in 1928, it has been a reunion place for many generations. They offer many delicious dishes and drinks to choose from!
After dinner, return to hotel.
Overnight: The Gran Hotel Ciudad de Mexico (tbc)
Meals: B/L/D
Day 03/Tuesday 28th April
MEXICO CITY
After breakfast, we start our day with an early visit to the Central de Abastos. This produce wholesale market, the world ́s largest of its kind, where you can literally find all the ingredients that mark Mexican cuisine. The market is overwhelming by its size and amount of extraordinary produce.
Next stop of the day is Coyoacan, a beautiful and tranquil quarter of the city, with Colonial architecture and the atmosphere of a small bohemian quarter. It was the first seat of the Spanish Government, established by Hernan Cortes in 1521.
In Coyoacan we will visit Frida Kahlo's house, known as "La Casa Azul" (Blue House).
In this adobe painted blue house, the famous modernist Frida was born and she lived here for 25 years with her husband, the muralist, Diego Rivera. Artworks, as well as unique pieces of folk art and dresses belonging to Frida Kahlo are on display here.
Lunch will be in Coyoacan.
Next stop is Colonia Roma- Condesa, (think of the film Roma) two cosmopolitan neighbourhoods, one of the most vibrant areas of the city, full of new gastronomic developments, such as Mercado Roma, Food Trucks, and trendy restaurants and bars. Time to walk & shop.
At Mercado Roma we might sit for a while to enjoy a refreshing drink prepared with 'chile ancho' liquor with fresh grapefruit juice (excellent!), a one of kind sorbet or a delicious fresh brewed coffee.
Early in the evening we meet to start our 'modern Mexican chef culinary adventure'. A unique way to submerge into the modern-cosmopolitan Mexican cuisine, which is quite different from the street-food culture (no 'tacos' tonight).
We  will savour unique food & drink specialties prepared by creative Mexican chefs with  Mexican ingredients. The tour is approximately 3 hours and involves tastes and sips in various reputable restaurants.
We finish up in the heart of Colonia Roma and then return to our hotel.
Overnight: The Gran Hotel Ciudad de Mexico
Meals B/L/D
DAY 4 | WEDNESDAY 29th APRIL

MEXICO CITY TO TONANTZINTLA AND PUEBLA.
Today we leave Mexico City behind and travel the scenic road to Puebla, Mexico's fourth largest city.  Enroute we will pass the photogenic snow-capped volcanoes Popocatepetl (Smoking Mountain, 5464m) and Iztaccihuatl (Sleeping Lady, 5230m).
We visit Santa Maria Tonantzintla with its gorgeous temple decorated by indigenous people. Next we continue to Puebla, one of Mexico's culinary capitals, Puebla is especially famous for its 'mole poblano.
We will also visit the famous Talavera Pottery Atelier "Uriarte". This is the biggest ceramic factory in Latin-America that exports the exclusive and renowned Talavera pottery to the world. The beautiful Talavera pottery is symbolic, which makes and defines Puebla inhabitants, as well as their culture & traditions.
After lunch, we have a walking tour in Puebla to explore the beautiful historic centre of the city, which has been listed as a World Heritage Site. Visit the Plaza de Armas, the Cathedral, and the breathtaking 'Capilla del Rosario' in the Santo Domingo Church.
In the afternoon we will have some free time to further explore the city, before going to our Boutique Hotel Meson Sacristia. 
Here at the hotel we have our Mexican cooking class, watching how the make the world-famour 'mole poblano". We get to enjoy the mole poblano for dinner with some sides as well.
Overnight: Boutique Hotel Meson Sacristia.(tbc)
Meals: B/L/D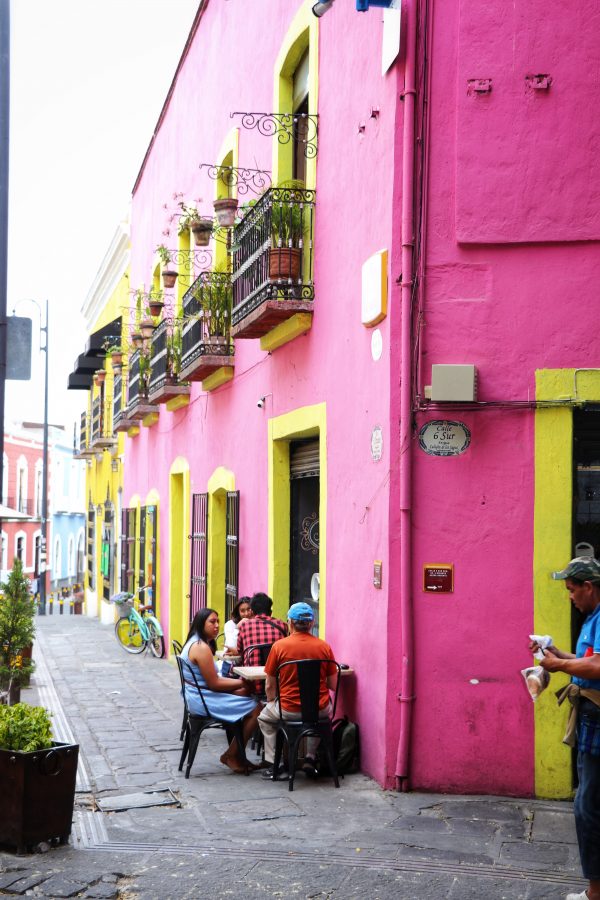 DAY 5 | THURSDAY 30th APRIL 

PUEBLA TO OAXACA
Morning transfer from Puebla to Oaxaca. Upon arrival, you will see why Oaxaca is considered one of Mexico's most beautiful colonial cities. Oaxaca's colourful historic centre has been well preserved and it has been listed by UNESCO as a World Heritage Site. Check-in at the hotel, freshen up and then on we go to visit the renowned artist Francisco Jesus Hernandez Perez. This is walking distance from our hotel and we will have the opportunity to chat with him and have a closer look to his little shop and interesting collage art.
We have a walking tour through the pedestrian roads surrounding the Santo Domingo Temple & Museum quarter, a lovely area to shop or simply enjoy the ambience.
For lunch we enter a close by 'loncheria' or restaurant to have something tasty. We continue our walking tour in the Santo Domingo area.
Early in the evening we meet our local expert guide Nora, with whom we will experience an amazing walking dinner tour through different local stands, tasting many delicious finger foods, like 'tortas, esquites, elotes, quesadillas' and other street-food-delicacies.
When the group is ready, we walk to the trendy minimalistic restaurant 'La Olla' with its lovely rooftop with great evening views! Here, we will share some time enjoying local mezcal cocktails accompanied by salt & sweet finger food specialties to the centre of the table. Our hotel is just over the road.
Hotel: Quinta Real Oaxaca (tbc)
Meals: B/L/D
DAY 6 | FRIDAY 01st MAY
OAXACA
This morning we visit the town of Coyotepec, famous for its ceramics production, mostly made from black clay "barro negro", among other types. We will learn about the different stages, from design to production. We return to the city and the Zocalo (main square) of Oaxaca. This is the starting point of our walking tour on this quarter of the city. We will visit the local markets, with plenty of time to look around, shop, explore and get adventurous tasting many delicious ingredients and foods. Lunch at the market, so we have all time necessary to enjoy this magical place, while shopping, or shopping while eating. Any way you want to experience the 'mercado', it is an excellent opportunity to submerge in the local culture and folklore. Oaxaca's markets are Mexico's most interesting places to visit.
We will meet at a fish & seafood Restaurant 'La Red' (The Net) in the historic centre for dinner. In the evening we can wander in the main plaza enjoying its' charm. Perfect ambient and mood to sit by the arches of the Zocalo to drink a beer and watch the locals dance!
Hotel Quinta Real Oaxaca (tbc)
Meals B/L/D
** Please note: tomorrow morning, after breakfast, we leave Oaxaca to travel to Merida. Make sure to pack all your belongings.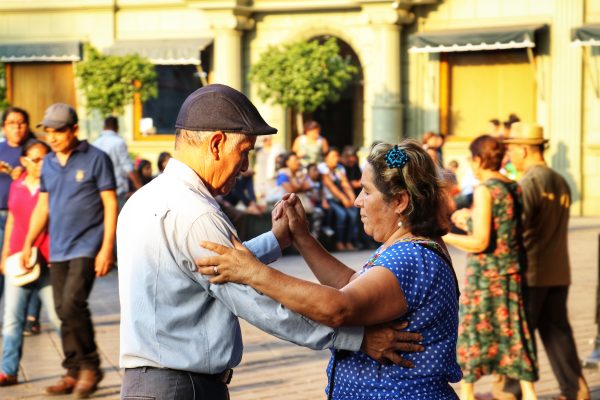 DAY 7 | SATURDAY 02nd MAY
OAXACA TO MERIDA (a flight)

In the early morning we will take a snack box breakfast and transfer to Oaxaca Airport to fly to Merida (with a necessary connecting flight in Mexico City). Upon arrival in "The White City", (approximately 12.30pm) we transfer to the hotel to register and get ready for our walking city tour. Merida is a gracious modern yet traditional city, with impressive Colonial architecture, a delicious gastronomy, and a strong influence of Mayan heritage. Merida is the capital and largest city in the Yucatan state, as well as the cultural and financial capital of the region. The city boasts the second-largest historic centre in Mexico; only Mexico City's historic centre is larger. As a result of its strong Spanish influence and isolation from other parts of Mexico, Merida developed a very particular cultural identity and pride. The unique traditions and culture we will have the chance to experience while staying in Merida, are overwhelmingly visible in the local dresses, mainly with women, language, cuisine and celebrations. We will tour through the most representative sites in the 'White City'. The city of Merida was founded by the Spanish military explorer Francisco de Montejo in 1526. In the main plaza, we will visit the Cathedral, Casa de los Montejo (Museum & Cultural Center), pass by the Government Palace and visit the Town Hall. Today, we will learn a lot about Merida. This trip is for sure a fantastic opportunity to enjoy the city in a different way. During the walking tour, a chocolate store (Ki'Xocolatl) is always a great stop to rest and drink an original cocoa beverage, either cold or hot.
We will have lunch in the downtown area.
There will be some time out late afternoon for a siesta or swim.
We will meet and walk to the restaurant for dinner.
After dinner we walk to the square and have a delicious sorbet at 'Dulcería y Sorbetería Colón by the cathedral.
Hotel: La Mision De Fray Diego (tbc)
B/L/D
DAY 8 | SUNDAY 03rd MAY
MERIDA CITY, ALL YOURS TO EXPLORE
Breakfast at hotel.
Enjoy a day to explore Merida City. The central area is very safe and it is so easy to find your way around.
Some of the more picturesque streets are closed to traffic this morning, there are bicycles to rent everywhere (or you might like to walk) and you can make your way around the city without worrying about traffic.
There is also a local Sunday market at the Plaza Grande where you can easily find a lunch/dinner spot although there are also plenty of other cafe options.
Often in Merida there is an option to go to a symphony orchestra or see a ballet.
I will assist with any specific requests.
NB: Hammocks are from Merida so this is the place to buy one if that is what you are looking for.
Hotel: La Mision De Fray Diego (tbc)
B

DAY 9 | MONDAY 04th MAY 

MERIDA TO CHICHEN-ITZA

Breakfast at hotel. Please make sure you have your swim suits in your hand luggage.
In the morning, before leaving our first visit of the day is just great, to a local chocolate factory! Founded 12 years ago by Chef Patrik, born in France, he speaks seven languages, travelled the world, until he decided to settle in Merida. Chef Patrik changed the classic chocolate taste and presentation into more than 30 varieties of flavours, with ginger, oregano, chile, vegan… he puts all his passion and love into this delicious and fantastic art of chocolaterie using organic ingredients, as well as pre-Hispanic preparation technics to cultivate, toast, grind over stone tablets and process the cacao seeds/grains. Chocolate tasting is included!
We continue to another picturesque place, Izamal 'magic town', known also as the 'Yellow Town'. Once we arrive in Izamal, we go on a walking guided tour.
Next we head to Yokdzonot Cenote, a natural wonder. Open to the public in 2007, Cenote Yokdzonot is today a Mayan Wellness Resource and Eco-Adventure site. It all started in 2005, when a group of women from the rural community of Yokdzonot, Yucatan decided to transform their community and organized themselves into a cooperative "Zaaz Koolen Haá" ('clear water', in Maya). Their vision was to create a sustainable and communally owned source of employment that would replace their dependence on poorly paid agricultural labour, preserving their environment and natural resources. Time to swim, relax, mingle with nature and the jungle surrounding the cenote. After a refreshing swim, time to enjoy a lovely lunch. On we drive to Chichen-Itza. Arrival at the hotel, which by the way is a great former Hacienda. There will be time to swim and relax before having dinner at the hotel.
Hotel: Hacienda Chichen
B/L/D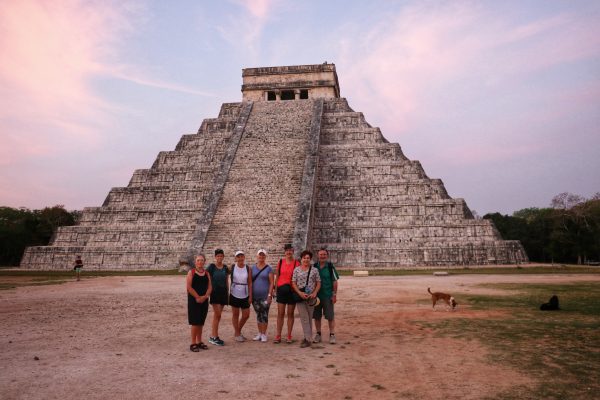 DAY 10 | TUESDAY 05th MAY 

CHICHEN-ITZA TO TULUM

Very (as in 6am or earlier) early morning coffee & sweet rolls at hotel and then we will beat the crowds to Chichen-Itza archaeological zone,  It is only a few minutes walk from our hotel.
At the end of the Early Classic Period, around the year 600 AD, Chichen-Itza was one of the largest and most prominent Mayan cities.
Nowadays, Chichen-Itza is undoubtedly the best-preserved Mayan site on the Yucatan Peninsula, and in 2007, it was declared one of the New Seven Wonders of the World. Various different architectural styles may be seen here. Some of the most famous landmarks are the Temple of Kukulkan ("El Castillo"), the Ballgame Court, the Platform of the Skulls, the Temple of the Jaguar, the Observatory, the One Thousand Columns, and the Sacred Cenote.
We will return to the Hacienda to have breakfast at the hotel.
We leave Chichen-Itza travelling to the Gran Cenote, another natural wonder in the Yucatan Peninsula. Make sure you have bathing suits in your hand so you can swim in the cenote.
After a refreshing swim we will head into Tulum beach to my favourite mojito cafe (freshly squeezed sugar cane), lunch and a spot of shopping at a lovely boutique, for those keen.
We then head to our hotel at Tulum beach, by the Caribbean Sea, incredible turquoise warm waters to enjoy!
Afternoon is for you at your leisure. If shopping is your thing then the beach strip at Tulum is lined with beautiful boutiques and also many cafes. You can pick and choose what you do and where you go to this afternoon.
Hotel: Eco Coco Tulum
B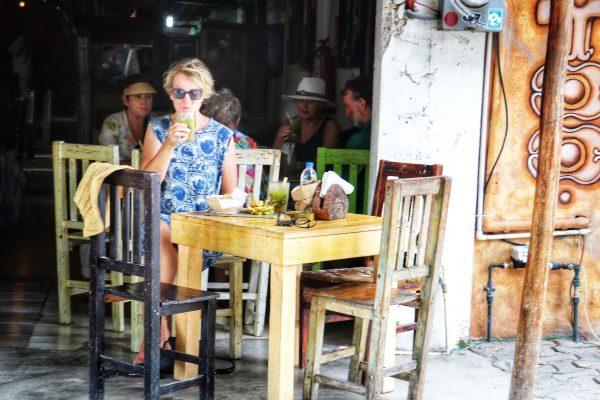 DAY 11 | WEDNESDAY 06th MAY
TULUM TO PLAYA DEL CARMEN
.
Today on the way to Playa del Carmen we will snorkel with turtles in Akumal. They are huge and just amazing. Please remember though that they are in their natural habitat so although I have seen them for 2 years in a row, there are no guarantees.
Akumal is part of the second largest coral reef in the world, which runs along the Riviera Maya coastline. It is a Natural Protected Area, which in Mayan means 'Place of the Turtles'. Akumal is a little beach community located 75 miles/120 km south of Cancun, and beautiful destination home to many wild sea animals such as the marine turtles, rays and colourful fish.
Continue to the hotel to check-in and enjoy the free afternoon.
Lunch is at the hotel.
In the evening, we will walk to the downtown area of Playa del Carmen to have dinner at El Fogon taqueria , famous for tacos al pastor. After dinner you may choose to remain in the downtown area to walk around and enjoy night life, or walk back to the hotel.
Hotel: Mahekal Beach Resort (TBC)
B/L/D
DAY 12 | THURSDAY 07th MAY 

DAY AT LEISURE AT PLAYA DEL CARMEN BEACH
Breakfast at hotel. Free time all day.   There are plenty of options including shopping, a day boat trip to lovely Cozumel, or just relaxing by the pool.
Lunch at the hotel.
At the agreed time, we will meet at the hotel lobby to walk to tonight's dinner restaurant.
Hotel: Mahekal Beach Resort (TBC)
B/L/D
DAY 13 | FRIDAY 08th MAY
DEPARTURE FROM MEXICO!
Breakfast at hotel. Morning at leisure to get ready to fly back home. 
We will depart from Cancun International Airport.
It is mandatory to be there 3 hours prior to departure at the airport.
Price $7690 p/p (twin share)
Single supplement price available on request
$600 deposit required on receipt of booking.
Full payment required 70 days prior to departure
Tour needs a minimum number before confirmation.
Payment by bank deposit (sorry at this stage I cannot process credit cards).
Inclusions
• 12 nights accomodationin 4-5*hotels (pretty much all 5*and they are lovely!)
• 12 breakfasts
• 9 lunches
• 9 dinners
Bilingual guide
• Internal flight from Oaxaca to Merida
• Cooking class as listed in itinerary
• Walking  food tours as listed in itinerary
• Entry to Cenotes
• Sight seeing and entry fees as listed in itinerary
• Private group transportation (flight is obviously public)
Not Included
• Optional activities, sightseeing and entry fees notl isted in the itinerary
• Meals not listed in the itinerary
• laundry, telephone or any other room charges
• some tips and gratuities, to advise
• international airfares and departure taxes
• Travel Insurance (compulsory)
* any visa costs if needed.
Notes
The weather in Mexico will vary from warn to hot. 

We shouldn't encounter any rain and if so only a little.

Merida does get very hot (mid 30's) as does Chichen Itza, therefore it is best to plan activities for early in the day.

Over the past few years the Yukatan coastline – Tulum and Playa Del Carmen – have been struck with a seasonal problem of sargassum seaweed deposits on the beaches.

This alters the colour of the water and also makes the beaches less desirable.

These areas are doing their best to control this situation and hopefully by May 2020 the beaches will be clear. If not then the hotel pools are the best option.

Keen to come with me?  
Email now for a booking form [email protected]
Due to vehicle size and boutique accommodation, numbers are restricted. :)