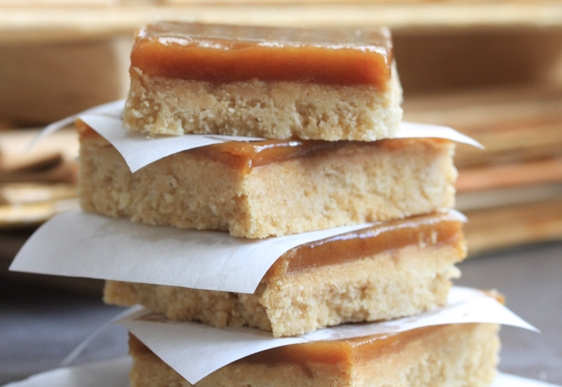 Ginger crunch is one of those slices that we have all heard of, probably made and yet not truly appreciated its thin crunchy, snappy base and tangy topping and where it came from in the first place. And yet the most common questions about ginger crunch, is how much base is enough and how much icing is too much? For something that only has 6 different ingredients it can't be too challenging – right?
If we look at our most trusted of culinary guides "The Edmonds Cookery Book", it has a recipe that has stood the test of time. As generally understood, ginger crunch recipe first started appearing in our kiwi repertoire in this cookbook in the mid 50's. Many versions of ginger crunch were detailed before that in women's collective cookery manuals. In the Hokitika Plunket Society Cookery Book from 1948, reference is given to making ginger crunch from dripping instead of butter, a clue as to how this recipe came about. In fact many early recipes didn't use butter and it was probably a waste-not afterthought from cooking the family roast, rather than a morning tea snack that was devised.
Ginger is best described as having a tangy piquant flavouring with many valuable medicinal properties, which underlies the reason why we include it in our diet. It has been sought after for cooking and apothecary for over 2000 years, and traded heavily in the days of the silk road across the Middle Eastern countries, through to the world domination of the East Indian Trading Company over 300 years ago.
It is known that the rhizome originated in South East Asia, reasoning why it is included in so many authentic Asian recipes. Long before paper was invented, ginger was part of the basic flavour principles of South East Asian culture because they fully appreciated the helpful qualities it held.
Ginger is believed to help nausea, and was often taken onboard ships or drunk in a potion by pregnant women in their early trimester. It is said to aid digestion and taken as an aperitif when meat laden meals were prepared, and as a result particulary helpful in the cases of extreme flatulence.
So ginger therefore, was a good thing to include in our Kiwi diet. In early New Zealand we only had the dried ground powder of the 'root' commonly available, it made perfect baking sense to include it in our cooking. Gingerbread, ginger biscuits, ginger tea, and ginger ale all were easy ways to reconstitute the powdered form into the daily diet. When some smart cook tried adding the spice to a dough base, with sweet fatty topping to give it mouthfeel, it became a very distinct NZ recipe from thereon in.
How is it made?
It is a slice, but then how would you define a slice? A baked base that could also be rolled into biscuits; a small flat iced cake; or is it more a patisserie product made with a pastry dough base with filling and/or topping conveniently cut into portion perfect pieces.
Ginger Crunch dough is normally crumbly. Made with equal quantities of fat to sugar, yet twice the weight of flour to fat. Sugar is to sweeten, baking powder as the raising agent and ginger adds flavour. Once cooked it is brittle and crunchy.
Traditionally, it is iced while hot out of the oven. Why? Because the icing can spreads easily and seems to sink into the hot cake in a reaction of hot sugars and melting butter, rather than just be a solid lump on the top. Topping with ginger flavoured butter cream icings or thickened icing sugar mixes tends to make the slice very sweet and almost fondant like.
Some bakers do prefer a denser more solid base, and a thicker topping. Certainly the café culture has given us large pieces of dough laden with thick glutinous icing that doesn't so much crunch – as clumps. But if it is called crunch then surely, that's what it is supposed to do. Therefore the slim, short base is the ideal place to start.
If I can take the time to critique the Edmond's recipe (having made it more than a few times) there a few points that need to be made:
The recipe states it fits a tin 20 x 30cm. This creates a very thin base, which is ideal for crunch. But heaven forbid you leave the tray in one minute longer and the oven turns it from crunchy to charred. It needs a little more give especially as tin variation can give as much as 4-5 cm difference in spread, a fact that is crucial with the quantity of this recipe.
The recipe says to knead. My dough is always more like a crumb, therefore no matter how diligent I am of the quantities, I always end up skipping the kneading and going straight to the pressing in tin. It is easier to tip straight from the bowl or food processor into the tin, plus if firm enough with the back of a spoon it works the same way to bind the pastry.
There never seems to be enough icing to cover the base consistently. Icing should go to the sides and cover gracefully rather than a patchwork of depth. But then, I don't want too much, which turns it into a sickly sweet slab.
How long before it is ready to eat. Many times fragile hands have fallen pray to hot sticky topping as they can't wait to get stuck in. This recipe needs a warning about letting it cool before sampling, and how much time between serving. It is ultimately better when allowed to cool for a few hours if not overnight to let the icing set.
And what about variations to make it more decadent, or more indulgent or even healthier? Is there a limit to how much ginger can be added, can it be enriched with using top quality sugars and organic butters? Does it need a crunchy top to go with the crunchy bottom? Or is it perfect just the way the recipe is stated all those hundreds of thousands of cookery books ago.
Elisabeth Pederson in "The Really reliable New Zealand Cookbook" (Beckett Publishing) from 1987, corrects a few of the proportions of the Edmond's cookbook, but decreases the quantity of ginger for the more refrained of palates. And the recently published "Best Recipes Ever" makes a solid effort at both flavour and size, but still tends to be more of a shortcake rather than a ginger brittle. I want to achieve more by doing less.
So testing the theory is the only way to establish which is best and modify the standard to make it unflappable. But tray after tray of baked slice my decision falls on the following as my version of the old faithful, not too dissimilar either, because some things are best just the way they are.
Ginger Crunch
As a busy cook and mum, I like the idea that I can make this in record time. It should be achievable on Sunday afternoon (or evening) before the week begins, before the onslaught of packed lunches and unexpected visitors. Five minute preparation tops; not too many dishes; and easy store cupboard ingredients.
Makes 20 squares.
175g butter, softened
¾ cup (170g) granulated sugar
2 (225g) cups plain flour
1 ½ teaspoon baking powder
2 teaspoons ground ginger
Ginger Icing:
120g butter
1 ¼ cup (170g) icing sugar
¼ cup golden syrup
4 teaspoons ground ginger
Preheat oven to 180°C. Conventional oven (no fan).
Grease and line a 20 x 30 cm slice tin with baking paper.
In the bowl of the food processor, blend butter and sugar until pale and creamy. Scrape down side of bowl, blend again. Add flour baking powder and ginger a spoonful at a time.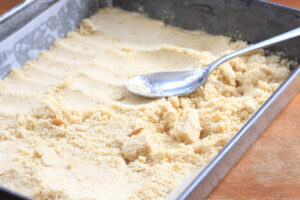 Tip the crumbly dough into the tin and press down with the back of a spoon. Firm it down and rub the spoon over to level out the dough.
Bake in centre of oven for 20-25 minutes or until golden brown.
Meanwhile, make the ginger icing. In a small saucepan on a medium heat, combine butter, icing sugar, golden syrup and ginger. Stir constantly until butter has melted. Let it come to the boil, then remove from heat, stirring well to dissolve all the icing sugar. Do not leave it on the heat un-attended as it will catch and burn.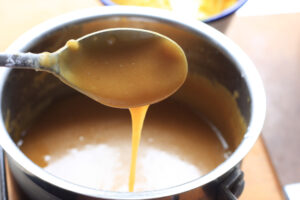 While the slice is hot, pour the icing over. If the icing has cooled, heat it slightly again to allow it to spread.
Cut into squares while still warm. Leave to cool in the tin for 2-3 hours or overnight. Keep in airtight container for 2 weeks.
Variations:
Oaty ginger crunch – Add ½ cup rolled oats to flour mixture or try this recipe for
Takaka Oaty Ginger Crunch.
Nutty ginger crunch – Add ½ cup roughly chopped macadamias to base. Sprinkle icing with finely chopped pistachios, walnuts, pecans, sesame seeds or toasted pinenuts.
Extra gingery crunch – Add 2 tbsp chopped stem ginger to base and 2 tbsp stem ginger syrup to the icing. Or sprinkle over finely chopped crystallised ginger over the icing.