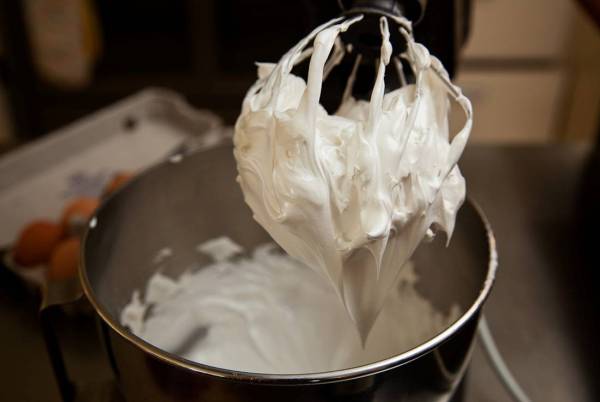 Note from Helen – I find this recipe to have a thick brittle crust which is largely due to the proportion of sugar to egg white.   Do look at our other pavlova recipes as well before deciding which one to try.
6 egg whites
3 cups sugar
2 teaspoons malt vinegar
2 teaspoons cornflour
2 tablespoons boiling water
Method
Preheat oven to 200 °C
Put all ingredients into electric mixer and beat it to death for about 10 minutes or until it is thick, glossy and the sugar is dissolved.
Pile mixture onto a baking paper lined tray.
Put into oven at 200 °C  for 2 minutes only
Immediately turn down to 100 °C and cook for 1 1/2 hours.
Remove from the oven, cool a little and then remove from paper and put onto serving plate to cool completely.
It has a crisp exterior and a marshmallowy centre.
I have even made this recipe into individual sized ones but only cooking them for 1 hour.
They freeze well, as long as they are put into a plastic container with baking paper between them. Be careful as they are still brittle when frozen. They thaw very quickly for a very convenient and delicious dessert