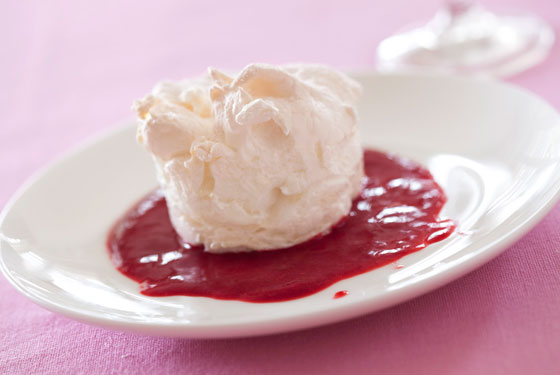 This is the same recipe as perfect pavlova.
6 size 7 egg whites
1 3/4 cups caster sugar
1 teaspoon malt vinegar
1 teaspoon vanilla extract
2 teaspoons cornflour
1 tablespoon boiling water
Yield:
makes 10 small pavlovas
Method
Preheat oven to 100 C. Place all ingredients in the bowl of an electric mixer and beat for 10 minutes until smooth, glossy and when you rub a little mixture between your thumb and index finger you cannot feel grains of sugar.
Spoon heaped mounds of mixture onto a baking paper lined tray.  Bake for 1 hour and then turn off the oven and allow to sit in the oven with the door closed for at least another hour or until the oven is cold.
Serve pavlovas with berries and cream or in a pool of raspberry coulis as shown.
Makes 10