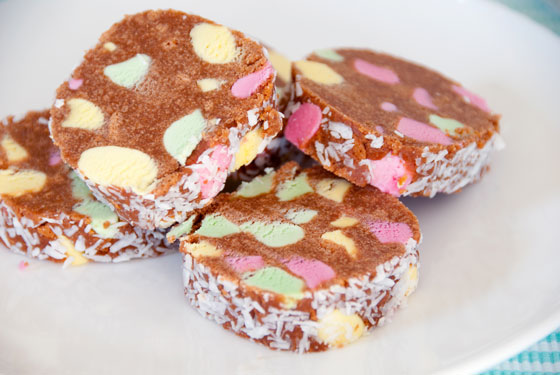 Ingredients
100g

butter, melted

250g (1 packet)

malt biscuits, crushed

1/2 tin (200g)

sweetened condensed milk

180g (1 packet)

fruit puff sweets, roughly chopped

dessicated coconut
Method
In a mixing bowl combine the crushed biscuits, melted butter, sweetened condensed milk and fruit puffs.
Tun the mixture out onto a surface and then shape into a log approximately 5-6cm in diameter.
Roll the log in coconut, pressing firmly so that the coconut sticks.
Wrap securely in kitchen paper or plastic clingfilm.
Refrigerate until firm and then slice into rounds.
Store in an airtight container in the fridge.
*fruit puffs sweet are available in NZ at  supermarkets and also at Bin Inn stores.
Alternatives to this are the Pascal coloured marshmallow-ish coloured candy people sweets.
Looking for other unbaked slices?  See our Pineapple Lump Slice and also the popular Caramel Slice.  We also like Citrus Slice, try it with white chocolate icing… mmm