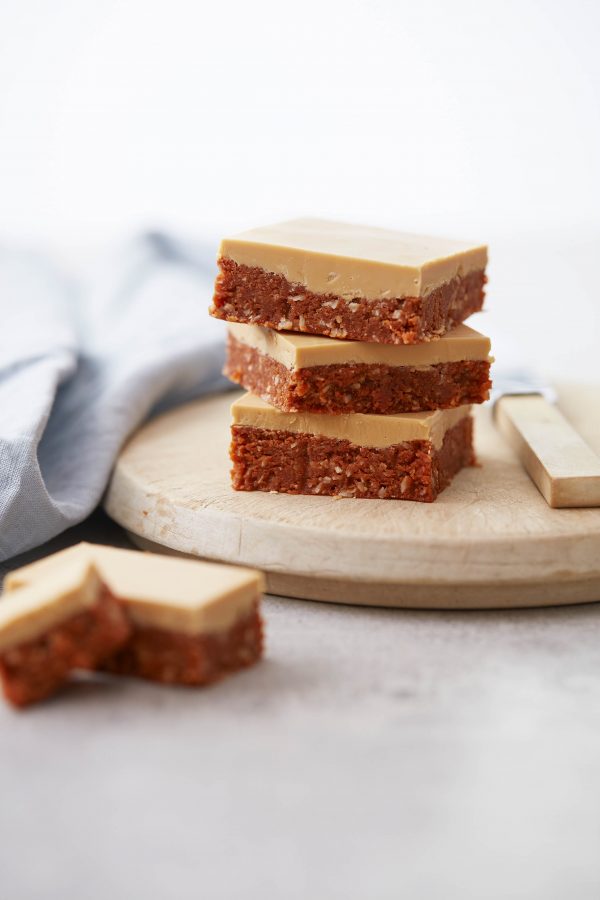 With its caramel biscuit base and smooth caramel chocolate top this slice is a complete winner.
It is so simple to make that the kids can do it themselves.
Change out the biscuits in the base to suit yourself, I personally like malt for colour and flavour but any other plain sweet biscuit would work.
Ingredients
125g

butter

1/2 can (200g)

caramel sweetened condensed milk (leftover condensed milk. can be poured into a container and frozen)

250g

packet malt biscuits

1 cup

desiccated coconut

270g

( 1 1/2 bars) Cadbury Caramilk Chocolate

1 teaspoon

oil
Method
Line a 26 x 18cm slice tin with paper.
Melt the butter in a small pot over a gentle heat, mix in the caramel condensed milk and stir until smooth.
Blitz the biscuits in a food processor until fine crumbs, mix in the coconut, butter and caramel condensed milk and mix well.
Press the biscuits into the tin.
Chill for at least an hour.
Roughly chop the chocolate and melt in a bowl over a pot of simmering water.
Gently stir until smooth and mix in the oil.
Spread the chocolate over the slice base.  Set aside and mark into bars when the chocolate starts to firm.  Chill and then slice into pieces.
Store in a sealed container in the fridge.
*Tip: If chocolate topping develops white patches in the fridge then simply give it a quick blow with a hair dryer on cold setting.