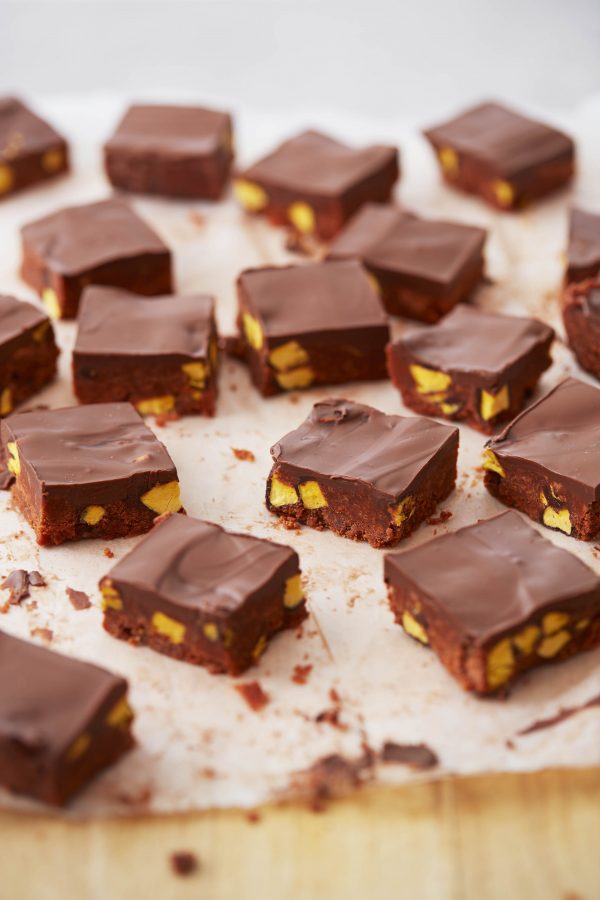 There are so many variations on this classic unbaked slice which is also almost the same as lolly cake/log.  Really like this idea of using chopped pineapple lumps.
You could just use a regular icing sugar chocolate icing instead of melted chocolate.
At room temperature the pineapple lumps are chewy and when refrigerated are crunchy.
By
Yield:
makes 20 pieces (depending how large you cut them)
Ingredients
250g

malt biscuits

100g

butter, melted

200g (1/2 can)

sweetened condensed milk

1 cup

desiccated coconut

1 cup

finely chopped pineapple lumps

150g

dark chocolate

1 teaspoon

neutral flavoured oil
Method
Place the biscuits into the bowl of a food processor and blitz to crumbs.
Add the melted butter and condensed milk and pulse to combine.
Tip the mixture into a bowl and mix in the coconut and pineapple lumps.
Press the mix into a 28 x 20cm lined slice pan and refrigerate until firm.
Gently melt the chocolate with the oil in a bowl over a saucepan of simmering water.
Pour the chocolate over the chilled slice and spread to make an even layer.
Leave at room temperature until the chocolate is just about set and then mark into pieces.
Refrigerate until firm and then cut into pieces (chilled pineapple lumps are easier to cut).
Store in an airtight container in the fridge.
Sometimes chocolate can "bloom" in the fridge.  This means it goes white, this is merely a factor of temperature and moisture change and isn't any more than a visual issue.  If this happens a quick blast with a hair dryer can bring it back to its original colour.  :)