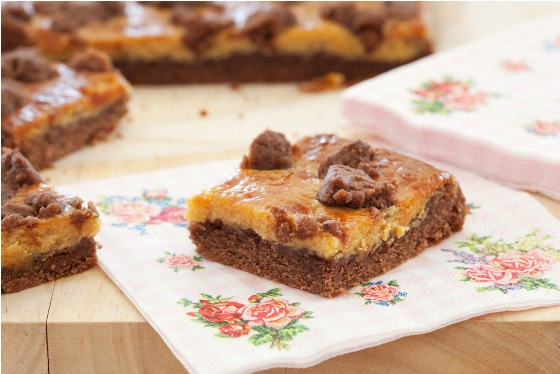 By
Ingredients
175g

butter

1/2 cup

sugar

1 tsp

vanilla

1 1/2 cups

flour

1 teaspoon

baking powder

2 tablespoons

cocoa

topping

100g

butter

1/4 cup

golden syrup

1 cup

sweetened condensed milk
Method
Preheat oven to 180 C.
Beat butter and sugaruntil pale and creamy. Add vanilla and combined flour, baking powder and cocoa and mix well. Press 2/3 of the mixture into a slice pan and allow to chill.
Melt together the butter and golden syrup, stir through the sweetened condensed milk and set aside to cool. Pour cooled topping over the base and then crumble remaining base over the top. Bake for 25 minutes until caramel is golden. Cool and cut into squares or fingers.