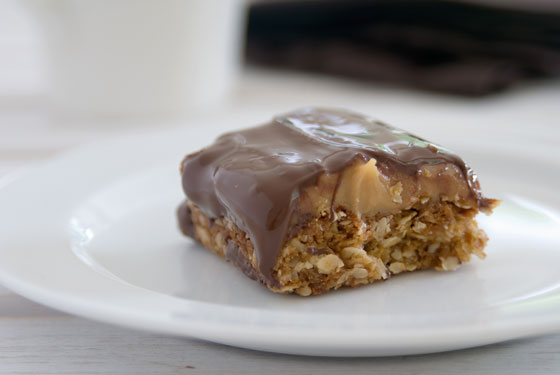 Ingredients
150g butter
2 tablespoons golden syrup
3/4 cup brown sugar
3/4 cup coconut
1 1/2 cups rolled oats
3/4 cup flour
1 1/2 teaspoons baking powder
75 g butter
1/2 cup brown sugar
395g can sweetened condensed milk
2 tablespoons golden syrup
250g dark chocolate
Method
Preheat oven to 180 C. Melt butter, 2 tablespoons golden syrup and 3/4 cup brown sugar in a saucepan, stir until smooth and then remove from heat. Mix the dry ingredients in a bowl, pour in butter mixture and mix well. Press mixture into a lined 20 cm x 30 cm slice pan. Bake 20 minutes until golden.
Melt 75 g butter, second measure of brown sugar, condensed milk and golden syrup in a saucepan and simmer, stirring, until mixture thickens and becomes caramel coloured. Pour over the base and allow to set.
Melt chocolate and spread over set caramel.
Cut into squares once set.