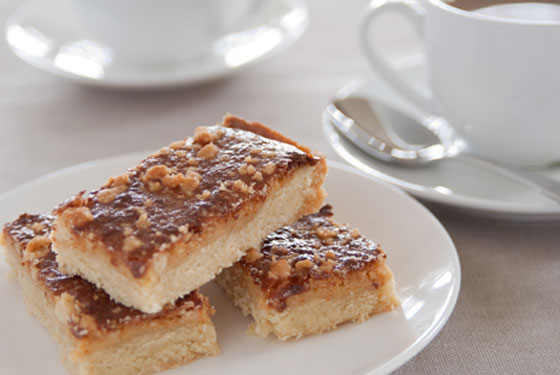 Ingredients
180g butter
1/2 cup sugar
1/2 teaspoon vanilla essence
2 cups flour
1 teaspoon baking powder
1/2 can(200g) sweetened condensed milk
60g butter
1 tablespoon golden syrup
Method
Beat butter and sugar until pale and creamy, mix in vanilla, flour and baking powder and
mix well. Reserve 1/4 of mixture for topping. Press mixture into a lined 28 x 18cm slice pan and refrigerate.
Preheat oven to 180 C Place condensed milk, butter and golden syrup in a
sacepan and heat until butter is melted. Cool in saucepan and then spread
over base. Sprinkle with remaining shortcake mixture and bake for 25 - 30
minutes.