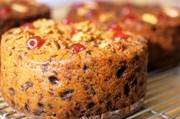 Annabelle
Ingredients
1 ½ kg mixed dried fruit
2 tablespoons apricot jam
¼ cup sherry
½ cup pineapple juice
1 teaspoon almond essence
1 teaspoon orange essence
1 teaspoon lemon essence
1 teaspoon vanilla essence
1 teaspoon brandy essence
2 tablespoons brandy or cointreau
300g flour
¼ teaspoon baking powder
pinch salt
2 teaspoons ground cinnamon
½ teaspoon ground nutmeg
1 teaspoon mixed spice
½ teaspoon ground cloves
250g soft butter
½ cup soft brown sugar
4 eggs
Method
Place fruit, jam, sherry, pineapple juice, essences and brandy in a glass
bowl and mix well. Leave to soak overnight in a cool dark place or up to
8 weeks, stirring every few days. Preheat oven to 130 C. Sift together flour,
baking powder and spices. Cream together butter and brown sugar add eggs
one at a time, beating well after each. Alternate eggs with a little flour
mixture to prevent curdling. Stir remaining flour through fruit mixture
and add to the butter and eggs. Stir well to combine. Pour into a lined
tin and bake for 2 ½ – 3 hours until cake tests cooked.