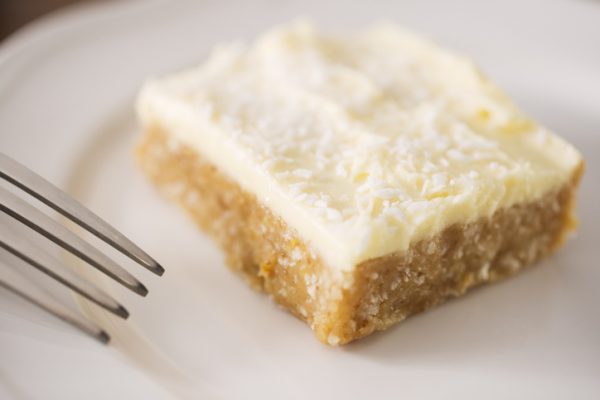 You can use orange or lemon in this no-bake slice or a mixture of both.
It stores well in the fridge and can also be frozen.
Ingredients
250g packet plain sweet biscuits (wine, girl guide etc..)

finely grated rind of 1 orange, save the juice for the icing

1 cup coconut

1/2 can (200g) sweetened condensed milk

125g butter, melted

icing

2 cups icing sugar

2 tablespoons butter, melted

juice from the orange

desiccated coconut for garnish
Method
Place the biscuits in the bowl of a food processor and process until crumbs.
Transfer to a mixing bowl and add the orange zest and coconut, mix to combine.
Pour in the butter and condensed milk and mix well.
Press into the prepared pan and refrigerate until firm.
To make the icing mix the icing sugar, butter and orange juice together in a small bowl.  If the mixture is too stiff then add a little hot water.  Spread the icing over the base and sprinkle with coconut.