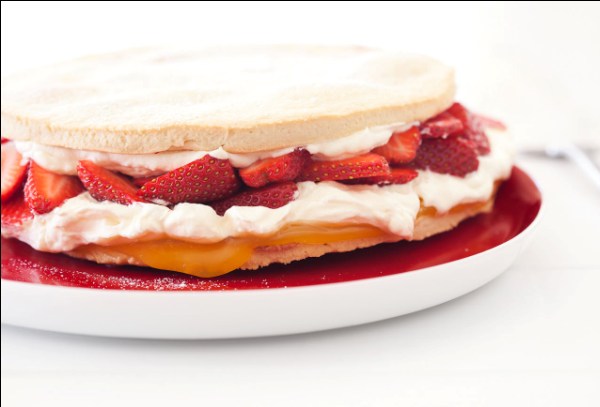 By
Ingredients
2 cups

flour

1/2 cup

sugar

125g

butter, well chilled and roughly chopped

1

egg

1-2 tablespoons

chilled water

300ml

cream

1

punnet, strawberries, hulled and sliced

1/3 cup

lemon curd

icing sugar for dusting
Method
Place flour and sugar in the bowl of a food processor.  With the motor running drop in butter in small pieces until the mixture resembles coarse crumbs.  Add egg and pulse until mixture comes together into a ball, add a little water as necessary.  Wrap dough in plastic clingfilm and refrigerate for 30 minutes or until ready to use.
Preheat oven to 180 C.
Roll dough out to 3mm thick and cut 2 x 20cm circles using a round cake tin as a guide.
Place pastry on a lined tray and bake for 10-15 minutes until lightly golden and firm. Cool on a wire rack until just warm or room temperature.
Whip cream adding a little icing sugar for sweetness if you like.
Place one of the pastry discs on a serving plate with the underside facing up.  Spread with  lemon curd and then cover with a generous layer of whipped cream.  Arrange strawberries over the cream.
Spread the underside of the remaining disc with cream and sit this cream side down on top of the strawberries.
Dust with icing sugar and serve.
For ease with slicing I suggest cutting the top layer of pastry with scissors and then slicing through with a sharp fine blade knife.