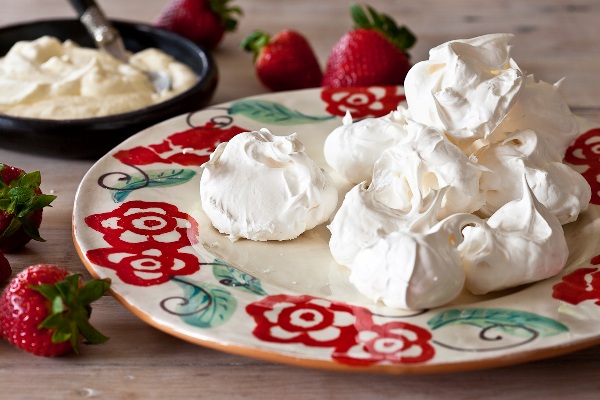 Ingredients
3 size 7 egg whites

3/4 cup caster sugar

1/2 teaspoon vinegar
Method
Preheat oven to 60 C. Whisk egg whites with an electric mixer until soft peaks form.  With the motor running gradually add the sugar a spoonful at a time allowing for it to be well incorporated after each addition.  Beat until sugar is completely absorbed and when your rub mixture between your index finger and thumb there are no grains of sugar.  Lastly mix in vinegar.
Place large spoonfuls of mixture onto a baking paper lined tray.  Bake for 4 hours until meringues feel firm and hollow when tapped at the base.
Turn the oven off and allow to cool in the oven completely.
Store in an airtight container.