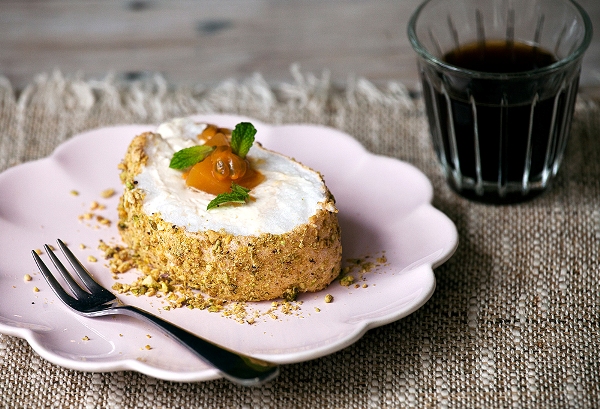 Summer and meringues go hand in hand, whether they are crisp and crumbly, a little chewy, marshmallow like or soft swirls topping fruit tarts.
Proudly brought to you by Pams®
At its most basic meringue is simply sugar whisked into beating egg whites, the Swiss cook it over a bain maire, the French in the oven and the Italians make a glossy meringue from gently pouring a hot sugar syrup into the beating egg white (see our raspberry meringue tarts).
Making a perfect pavlova can be trickier than meringues but it is worth getting right, particularly in NZ where a pav on the Christmas table is almost mandatory.
For both meringues and pavlovas an electric mixer (either handheld or on a stand) is almost essential, unless you have muscles like Popeye that is.
Meringue tarts are hugely popular. Traditionally these are made with lemon filling but we also like them with Raspberry or strawberry and rhubarb. Try making your meringue topping the Italian style and see how luscious and glossy meringue can be.

These little Mini Lemon Meringue Pistachio Tarts are oh so sweet and perfect for a finger food dessert.
Macarons are also a great finger food dessert.  The flavours and colour combinations are extraordinary but we are pretty happy with these pink macarons and those with a sweet tooth may like to try macarons with salted caramel filling!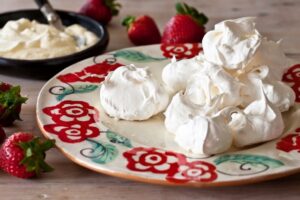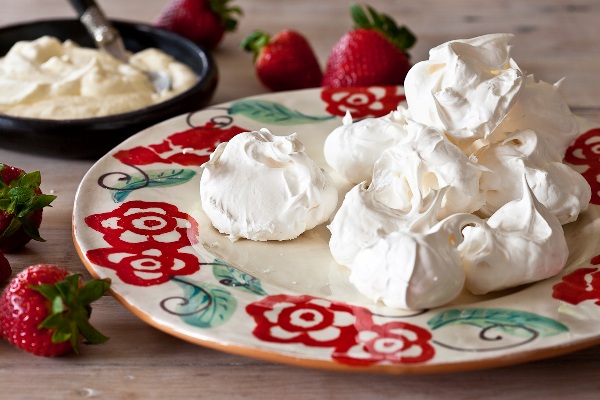 These Perfect Meringues are exactly that.  Pure in form and aesthetically pleasing, these little clouds of pure white are what many of us think meringues are meant to be.  Serve alongside a mountain of berries and softly whipped cream or sandwich together with cream or ganache.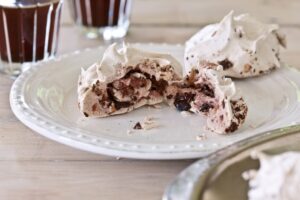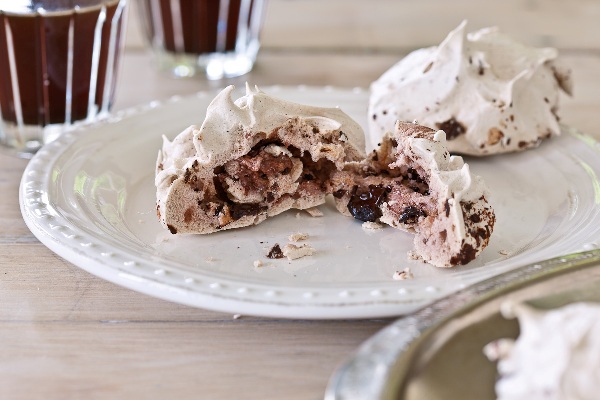 Chewy Chocolate Meringues take the meringue concept and change it round a bit. These are crisp on the outside, chewy in the centre and just the thing to serve alongside a cup of coffee or with freshly picked raspberries and cream. Having made quite a few hundred of these last summer, I can vouch for both the recipe and their popularity!
Of course you can flavour your meringues to suit your needs.  Here are some of our favourites.
Any broken meringues can be easily incorporated into desserts such as this Chocolate Semifreddo recipe or the popular Eton Mess.  If you like the semifreddo idea but feel the chocolate is a bit heavy then just swap the nougat for meringue in this Raspberry Semifreddo.

Our video on making the perfect pavlova is great for those who like to learn by watching someone else do it. We also have a making the perfect pavlova feature that has heaps of tips for making fabulous pavlovas.  Once you have a good pavlova recipe at your finger tips then the rest is just a bit of practice.  Pavlovas can be made to share or individual such as these little pavlovas with berry coulis


And, if you want a variation on the regular pavlova or time is not on your side then pavlova roulade is quick, easy and super lovely – plus it freezes really well!   We have filled ours with mango and passionfruit but berries would of course look very festive and you can change the pistachio crust to almond flakes if you prefer.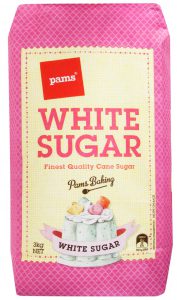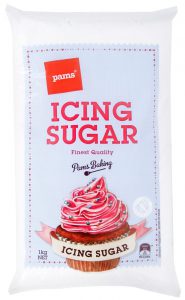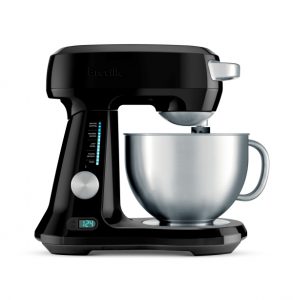 To help with your meringue making we are excited to have a Breville Scraper Mixer Pro in Black Sesame colour and with a recommended retail price of $739.95