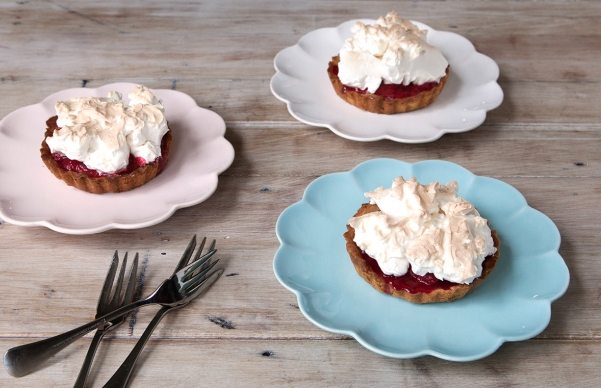 2 cups (290g or 10oz) flour
1/4 cup (60g or 2 oz)  sugar
125g (4.5oz) butter, well chilled and roughly chopped
1 egg
1-2 tablespoons cold water
40g unsalted butter
1/4 cup Pams sugar
1 tablespoon lemon juice
1 1/2 cups fresh or frozen raspberries
3 egg yolks
3/4 cup Pams caster sugar
100ml water
3 egg whites
Method
Place the flour and sugar in the bowl of a food processor and with the motor running drop the butter in and process until mixture resembles coarse crumbs.  Add the egg and pulse until pastry comes together to a ball, adding a little chilled water as needed to help the dough to bind.  Wrap the pastry in plastic cling film and refrigerate for at least 1 hour.
Preheat the oven to 180 C.
Roll the pastry out to 2-3cm thickness.  Grease 6 x 9cm round tart tins.
Line the tins with pastry, trimming the edges with a sharp knife.*
Cover the pastry with baking paper and then weights.
Bake blind for 10 minutes before removing the weights and cooking for a further 5 minutes until the pastry is a golden biscuit colour.
Allow the tart shells to cool a little in the tins before removing and sitting on a wire rack to cool completely.
In a small saucepan gently melt the 40g of butter with the sugar, lemon juice and raspberries.  In a separate bowl lightly whisk the egg yolks.  Pour a little of the raspberry mixture into the egg yolks, stirring as you do so.  Return the mixture back to the saucepan and heat, stirring, until the mixture thickens.  Allow to cool.
To make the meringue, combine the caster sugar with the water in a saucepan and heat over medium heat until the sugar dissolves.  If any sugar crystals stick to the side of the pan, use a wet pastry brush to remove them.  Heat to the soft-ball stage 116 °C (or 239°F).  As the syrup is nearing the required temperature beat the egg whites  with an electric mixer (I used a stand mixer) until soft peaks form.   Slowly pour the hot syrup into the egg whites in a thin steady stream, whisking non-stop until the egg whites have cooled and are very thick, about 8-10 minutes.
Spoon the raspberry filling into the tart shells, top with meringue and colour with a kitchen blow torch if you like or sit under a hot grill for a minute or two.
* left over pastry can be wrapped securely and frozen for future use.