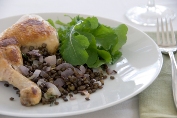 Chickpeas, Beans and Lentils – Lynley Ruck
There are many very good reasons to eat Lentils, Chickpeas and Beans, they are nutritious, inexpensive and very versatile. Many of us feel at a loss as to how to prepare and cook these powerhouses of protein, but with thousands of variations of traditional recipes available – they can be easy, cost-effective, rewarding and most importantly delicious. Although they make pretty good eating in their own right – I like the combination of beans and pulses with meat, they are a perfect receptor of meat juice and flavourings.
Dried vegetables are almost as old as time, broad beans and lentils were known to the Egyptians, and chickpeas were part of the ancient Roman's daily diet. Beans and legumes were an important alternative source of protein throughout old and new world history, and with food prices headed in the direction they are, why not incorporate a few into your weekly menu?
Chickpeas are also known as garbanzo beans, Indian pea, ceci bean (where the name "chickpea" originates), bengal gram and channa; they are high in protein and are grown in the Mediterranean, western Asia and India.
Oozing with versatility, chickpeas can be used successfully in salads; I particularly like the marriage of chickpeas, pumpkin and feta. They make wonderfully creamy dips – need I mention the ubiquitous hummus? I like to add mystery ingredients like olives and sun-dried tomatoes. Chickpeas can also form the foundation of vege burgers, falafels and often accompany meat and vegetables in traditional soups, tagines and cassoulets. Harira is a one dish meal with both chickpeas and lentils and is traditionally served in the middle east during Ramadan, when Muslims fast between sunrise and sunset, a delicious, velvety and nourishing way to break a fast.
If you have that rare ability to plan meals ahead of time, chickpeas are easily soaked overnight and boiled in fresh water* for about 2 hours – or until tender – but beware that some imported beans and legumes are now heat treated and may not soften so easily – it's a bit of a gamble. When spontaneity overtakes me, I always have a can or two of chickpeas in the cupboard, combine them with steamed couscous and vegetables with a sprinkling of chopped herbs – they provide sustenance almost instantaneously!
* don't add salt to the cooking water as this can prevent beans from softening.
The lowly lentil has been sustaining man for thousands of years. Some considered lentils to be poor man's food and refused to eat them. Although they may be inexpensive, lentils are very nutritious, filling, and more importantly, flavourful.
Lentils were one of the first crops domesticated in the Near East and with 26% protein is a very important part of the diet in many parts of the world, especially in India, which has a large vegetarian population. A variety of lentils exist, with colours that range from yellow to red-orange to green, brown and black. For the most part, you can substitute any colour lentil for another, although some cook up firmer than others. The red lentils soften quickly while the sophisticated French du Puy and the sexy black Beluga lentils tend to retain their shape for longer.
 Lentils make hearty savoury winter fare; they are warming, comforting and highly nutritious. Teamed up with a spicy sausage this Chorizo & Lentil Soup is a favourite of my family – serve with simply crusty bread, butter and plenty of sea salt and freshly ground pepper. Omit the sausage and the meal is completely vegan.
Lamb and lentils cooking slowly are absolutely unctuous. I have teamed up lamb shoulder steaks and glamorous (read: twice the price) French du Puy lentils in this ragout, but you could use either brown or green lentils and any cut of lamb would be fine.
Beans or legumes are again an ancient form of sustenance known from prehistoric times and are also packed with protein. After soaking overnight, dried beans can be cooked in a pot on top of the stove, in a pressure cooker or in your microwave. Again many different varieties are available tinned and pre-cooked, eliminating the time-consuming stigma often attached to preparing these valuable, versatile legumes.
Black beans or kidney beans are used to perfection in these Spicy Bean Patties, which teamed up with a salad and the lemony fresh mayonnaise makes a perfect mid-week meal that the kids will love.
Bean sprouts are extremely good for you, and although we are used to seeing mainly mung beans or alfalfa sprouts sold in supermarkets, you are actually able to sprout any legume and include it in your diet for extra vitamin B1, B2, C and all important iron. Choose from adzuki beans, mung beans, soya beans, chickpeas or even du Puy lentils or green lentils. Wash, pick over and soak your chosen beans in a jar or bowl, and rinse and drain morning and night until sprouts appear – it is that easy!
Often beans respond very well to long slow cooking; it enables them to take up flavour and to become really tender. I adore Nigella Lawson's recipe for slow cooked leg of lamb on beans, and have used her recipe as inspiration for the following using pork, kumara and black beans instead. Again it is heart winter fare with a hint of citrussy sweetness. Made in a slow cooker, or in the oven, this dish is a perfect Sunday night "hunkering down against the elements" kind of dinner.
Don't be afraid to use chickpeas, lentils and beans, these versatile staples have been around for thousands of years and something tells me they are going to become a lot more popular with people in all cultures.