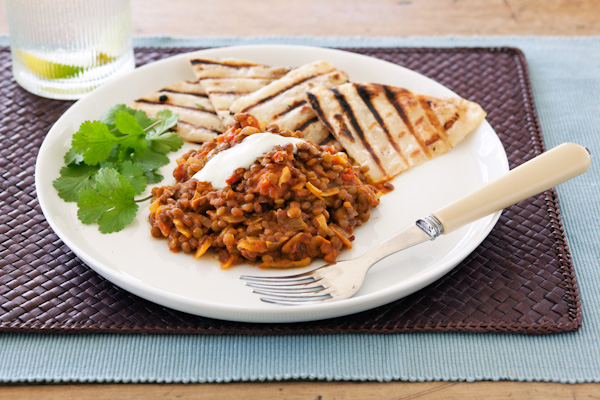 The argument for having a diet rich in pulses, being dried peas, beans, soy beans and lentils (legumes) is compelling.
Aside from being cheap and filling they are also extremely good for you and there are loads of delicious recipes using pulses.

Pulses are an excellent source of protein, they are low in fat, high in fibre, full of complex carbohydrates and have essential micro nutrients.
While peanuts are officially legumes, their properties are much more like tree nuts so are generally included in dietary discussions as a nut as opposed to a legume.
The web is full of research into the health benefits of a diet rich in legumes, obviously better when combined with lots of fresh fruit and vegetables and low amounts of saturated animal fats.
Most pulses require soaking before using with the exception of lentils and split peas.
While once upon a time meals made with many pulses needed to be planned well in advance to allow for soaking with the increase of canned pulses available the need for soaking has been eliminated.  Just make sure you rinse them well before using.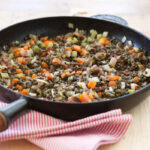 Pulses on the whole are extremely cheap,  with the exception of the dark green French lentil from Le Puy.  The Puy lentil has a unique flavour and  holds its shape well during cooking.  Puy lentils make a delicious side dish for a piece of pan fried fish or chicken.  Braised puy lentils with vegetables and perhaps bacon are positively delicious.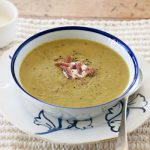 Green split peas break down quite quickly during cooking which makes them ideal for soups such as this hearty recipe for pea and ham soup.
I tend to favour bacon bones over a ham hock for flavour but whichever way you make it, pea and ham soup is a hearty and economical meal.
Yellow split peas are often used for dahl.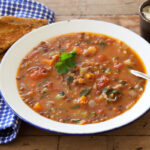 Brown lentils are also great for soup, whether it is a vegetarian soup with loads of vegetables or you add chicken stock for added flavour, lentil and vegetable soup is one of my winter favourites.
Brown lentils are also ideal for dahl.  This can be made ahead of time and reheated to serve as part of an Indian meal with curries, naan, rice and condiments or on its own as a simple vegetarian meal.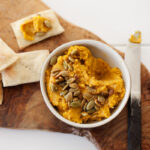 Cans of chickpeas are a pantry staple.  Homemade hummus  can be made in a matter of a few minutes, pumpkin hummus takes a little longer unless you have cooked pumpkin on hand but is well worth the effort.  The pumpkin adds a sweetness and silky texture to the hummus. Chickpeas are also perfect for adding to soups, salads and casseroles and are the base to falafel.
Roasted salted chickpeas are also a tasty nibble to serve with drinks.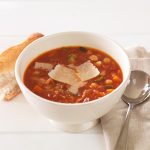 Cannellini beans are also indispensable to a well stocked pantry.  Easily converted into a white bean puree for serving alongside lamb or chicken they are also lovely in minestrone soup and chicken with cannellini beans, garlic, paprika etc… is one of my favourite dishes.
Cassoulet is time consuming but oh so worth the efffort with chunks of duck, pork sausage, vegetables and beans in a rich and hearty sauce.
Red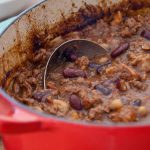 Kidney beans are often used in Mexican cooking, they hold their shape well and have a mealy texture.  This chilli con carne recipe combines both kidney and cannellini beans with mince, lager, stock and a little cocoa along with the usual herbs, spices and vegetables, to form a pot full of goodness that is easily extended to accommodate extras.
Tips for cooking with pulses.
* Add salt once lentils are cooked as salted cooking water can mean tough skins.
* Soaking and rinsing peas and beans before cooking can help to alleviate gas forming properties.  It is also helpful to bring beans to the boil and then pour off the water and start again with fresh water.
* Drain and rinse canned beans prior to using.
* Store pulses in a sealed container in a cool spot away from sunlight.
What are your favourite pulses and how do you cook them?