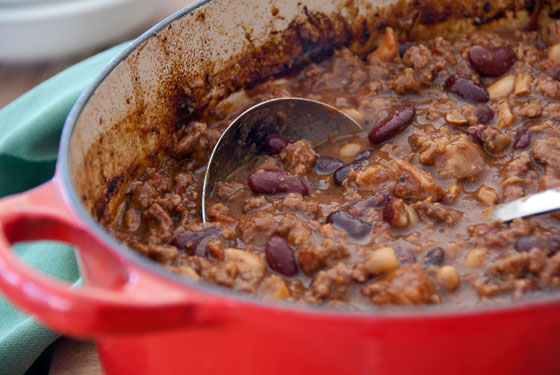 Method
2-3 tablespoons olive oil
1 kg beef mince
500g pork pieces
6 rashers bacon
2 onions, finely sliced
5 cloves garlic, crushed
1 teaspoon ground coriander
1 teaspoon ground cumin
1/2 teaspoon cayenne pepper
1/2 teaspoon chilli powder
375 ml bottle beer
2 cups beef stock
1 can crushed tomatoes
2 tablespoons tomato paste
salt and freshly ground black pepper
1 tablespoon Dutch processed cocoa (optional)
2 tsp dried oregano
425g can kidney beans, drained and rinsed
425g can cannelini beans, drained and rinsed
Preheat oven to 170 C.
Heat 1 tablespoon of oil in a large frying pan and brown the mince. Remove the meat from the pan and transfer to a large casserole.
Brown pork along with bacon in the frying pan over a moderate heat, adding more oil if needed. Once coloured then transfer to the casserole.
Add onion and garlic to the frying pan and gently cook until just tender. Mix in the coriander, cumin, cayenne pepper and chilli powder and then add this to the meat.  Pour in the beer, beef stock, tomatoes and then stir through the tomato paste, cocoa, cinnamon and oregano. Cover and cook in the oven for 2 1/2 hours. Add beans and cook for a further 20 minutes.