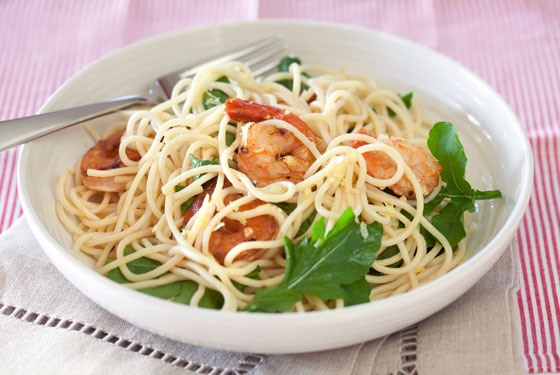 Serves 4
Ingredients
21 king prawns
1 tablespoon chilli oil
300g dried spaghetti
lemon infused oil
1 1/2 cups rocket leaves
Method
Peel and devein prawns leaving the tail intact. Place in a small bowl with chilli oil.
Cook spaghetti in plenty of boiling salted water until al dente – approx 8 minutes.
Drain spaghetti and return to saucepan – toss with a generous drizzle of lemon infused oil.
Heat a frying pan over a high heat and when hot quickly cook prawns until pink on both sides.
Toss pasta with rocket and arrange a twist of pasta on plates, top with prawns and a sprinkle of sea salt.