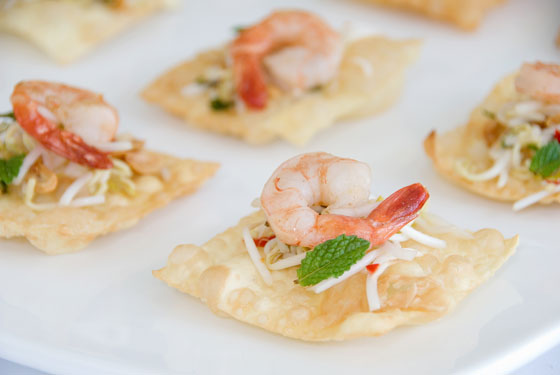 Ingredients
20 wonton wrappers
peanut oil
15g palm sugar
2 tablespoons lime juice
1 tablespoon fish sauce
1 red chilli, seeded and finely chopped
small bunch of fresh mint leaves
¼ cup peanuts, roasted
½ cup bean sprouts
20 prawns, cooked with head and shell removed.
Method
Heat enough peanut oil in a small saucepan to shallow fry wonton wrappers in
batches. Cook until crispy and drain on paper towels. Melt palm sugar in
a small saucepan over a gentle heat, remove from heat and stir in lime juice,
fish sauce and ¼ of chilli. Slice the mint leaves into long fine shreds
and chop the peanuts. Toss the sprouts, mint and peanuts in the dressing.
To assemble place a teaspoon of sprouts and mint mixture on the centre of
each wonton wrapper and top with a prawn.