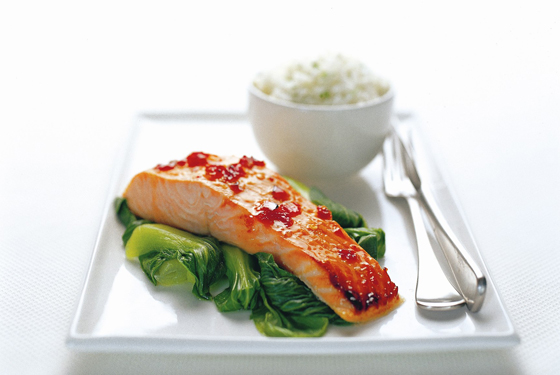 serves 4-6
Ingredients
1/2 cup sweet chilli sauce
1/4 cup lime or lemon juice
1 teaspoon finely grated lime or lemon zest
1 teaspoon light (salt reduced) soy sauce
1 Regal Salmon fillet, pin bones removed, cut into 6 portions
Method
Combine the sweet chilli sauce, lime or lemon juice and zest and soy sauce in a small bowl. Spread about 3/4 of this over the salmon, reserving the remainder for later. Chill until ready to cook - this can be done an hour or two ahead.
Cook the salmon fillets under a preheated grill for 4 to 6 minutes or until starting to brown and just cooked through.
Spoon the reserved glaze over each fillet and serve with rice and steamed bok choy or spinach.