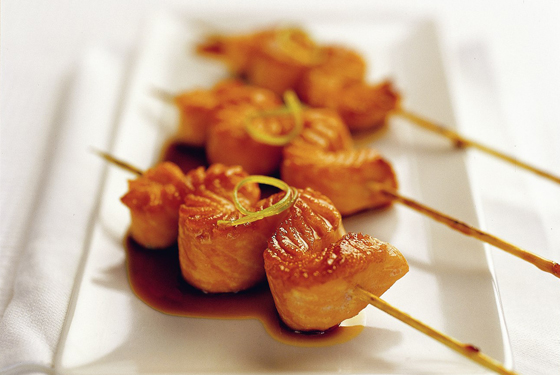 Ingredients
3 tablespoons light (salt reduced) soy sauce
1/4 cup mirin
1/4 cup light (salt reduced) chicken stock
500 g Regal Salmon fillet, pin bones removed
spring onion curls to garnish
Method
Combine the soy sauce, mirin and chicken stock in a small saucepan and simmer until reduced to a syrupy consistency.
Cut the salmon into long thin strips approximately 5 mm thick and thread onto bamboo skewers to form a zigzag shape.
Cook the skewers over a preheated barbecue or under a preheated grill for 1 to 2 minutes on each side.
Drizzle the skewers with teriyaki sauce and garnish with spring onion curls.
(to make spring onion curls cut spring onion into very fine slices. Place in icy cold water for a few minutes).