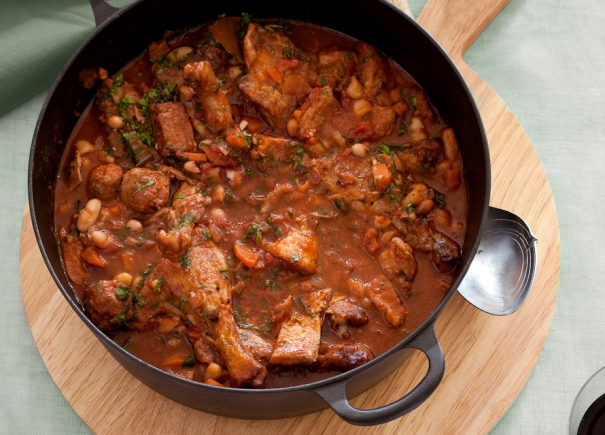 Serves 8
This is delicious and hearty. Don't be put off by ingredient list or time as it really is simple and worth the wait!
Dry beans can of course be used by soaking over night and then cooking. In NZ it is often difficult to source dry cannelini beans which is why I have used canned.
Ingredients
8 duck legs
sea salt
olive oil or duck fat
400 g pork slices, finely chopped
8 toulouse sausages, cliced into 2 cm thick sliices
6 chorizo sausages, sliced as above
1 onion, finely chopped
5 cloves garlic, crushed
1 large carrot, peeled and chopped
2 stalks celery, finely sliced
2 sprigs thyme
2 400 g cans crushed tomatoes
1 tablespoon tomato paste
1 bay leaf
4 x 400 g cans cannelini beans
1/2 cup roughly chopped parsley
Method
Preheat oven to 130 C.
Rub duck legs with sea salt and arrange in a single layer in a baking dish. Completely cover with oil or fat and cook for 2 hours. Check during cooking and if oil is bubbling then reduce heat until oil is at a gentle simmer.
Leave duck to cool in the oil and then refrigerate until required.
These can be done a day or two in advance.
Heat a large frying pan and cook pork and sausages until golden brown. Reduce heat and onion, garlic, carrot, celery and thyme. Allow to cook over a gentle heat for 10 minutes. Transfer ingredients to a large casserole and add tomatoes, tomato paste and bay leaf as well as 2 cups water.
Drain cannelini beans and add to the casserole. Cover and cook in the oven for 1 1/4 hours, stir occasionally during cooking.
10 minutes prior to serving heat grill, remove duck from oil and place on a rack on a rack over a roasting dish, grill until skin is crisp and bubbling. Serve cassoulet in bowls, scatter with parsley and top with a duck leg.
Serve with crusty bread.