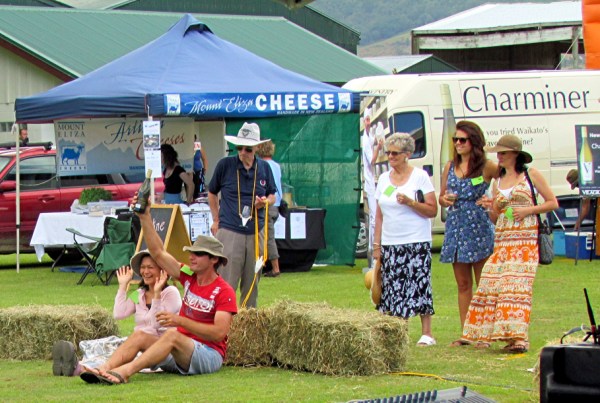 KATIKATI, 11th January 2012: Saturday's Katikati Avocado Food & Wine Festival is set to be a special one for all food lovers as it marks the biggest avocado season this country has ever seen.
The festival, established by the Pakeke Lions Club Katikati, will be held on Saturday 14th January and is a must for those who are keen to learn new tricks in the kitchen. With a glass of wine in hand, visitors can discover how to use avocados in a multitude of exciting and innovative ways that are bound to impress family and friends this summer.
The New Zealand Avocado Growers' Association Inc. (NZAGA) will significantly support the festival for the first time to help introduce the versatile fruit to people who have never tried it, and to give avocado lovers new ideas about what dishes they can create at home.
Visitors to the festival will be greeted with a host of avocado treats and activities in the NZ Avocado tent, including avocado-themed cooking demonstrations with celebrity chef and author Peter Blakeway.
Attendees can also participate in a guacamole competition, an avocado recipe competition and enjoy the taste of a fresh avocado smoothie. And while mum and dad hone their culinary skills, children's entertainment will also be on offer including a potato head decorating competition – avocado style.
NZAGA communications manager Midge Munro says this is a significant year for avocados domestically and as an export commodity.
"The festival this year coincides with the biggest season of avocados ever in New Zealand, as well as the Add An Avocado campaign, which aims to raise awareness about their health benefits and versatility in the kitchen."
A ripening display in the NZ avocado tent will show the public how to decide when an avocado is ripe and ready to eat. This is a common misconception amongst the New Zealand public. "You can tell if an avocado is ripe purely based on its colour. Squeezing the fruit damages it – a common problem in supermarkets and fruit and vege shops," explains Munro.
"Research has found that although Kiwis enjoy avocados, they're sometimes still unsure what to do with them because their grandmothers didn't have them in the kitchen. For the same reason there are also misconceptions about how to choose and avocado, how to tell when they are ripe and how to ripen them."
The best way to tell if an avocado is ready to eat is by its colour. Bright green indicates it is not ripe, olive green means the fruit has 2-3 days to go, brown-green equals firm ripe and dark brown shows that the avocado is soft ripe. To ripen an avocado at home, simply pop it in a brown paper bag or put it in your fruit bowl where other fruits will give off ethylene gas – a natural ripening agent that will accelerate the process.
These natural wonders are one of the most nutritionally complete fruits on earth, making them great for everyone's health. Avocados are a treasure trove of essential vitamins and minerals; A, B (B6, niacin and riboflavin), plus C, E, copper and potassium.
The ultimate food in a flash for babies just going onto solids, avocados can be quickly mashed and served with a spoon straight from the skin. They're also an excellent source of folate, which is ideal for pregnant women.
NZAGA has been providing recipes and nutritional information to the public, as well as working with agencies such as 5+ A Day Charitable Trust. For more, visit the NZ Avocado Facebook page http://www.facebook.com/nzavocado.
5 FACTS YOU MAY NOT HAVE KNOWN ABOUT AVOCADOS:
• The Guinness Book of World Records lists the avocado as the most nutritionally complete fruit in the world.
• Avocados can be used in warm dishes.
• Freshly mashed ripe avocado can be frozen for up to four months.
• Avocados contain more potassium per serve than bananas.
• There are over 500 varieties of avocado in the world – Hass is the common commercial variety grown in New Zealand.
ABOUT KATIKATI AVOCADO FOOD AND WINE FESTIVAL
The festival is an initiative of the Pakeke Lions Club Katikati as a fundraiser for local community groups. 2012 will once again see the club donating funds towards the Cancer Society Lodge in Hamilton.
Visit www.avofest.co.nz for ticket and festival information.